Viet Nam has transformed from an agricultural-based economy to one of the most popular manufacturing and industrial hubs in Asia and is now transitioning from low skilled and labour-intensive production to higher-value industries.
Key drivers include competitive labour costs, favourable corporate income tax rates, a location near source markets, young population, stable government, rapid growth and an improving business climate.
Regional competitiveness
Viet Nam benefits from a stable political climate, a young population of over 96 million people, an improving business climate and one of the fastest growth rates in the world. According to ADB's Asian Development Outlook 2019 report, Viet Nam's economy is predicted to maintain growth in 2019 and 2020 of 6.8% and 6.7% respectively, making it the fastest-growing economy in Southeast Asia. Furthermore, the World Bank's 2018 Doing Business report ranked Viet Nam 69th among 190 economies, higher than Indonesia (73rd), Philippines (95th) and Myanmar (165th).
Chart 1: GDP growth, 2019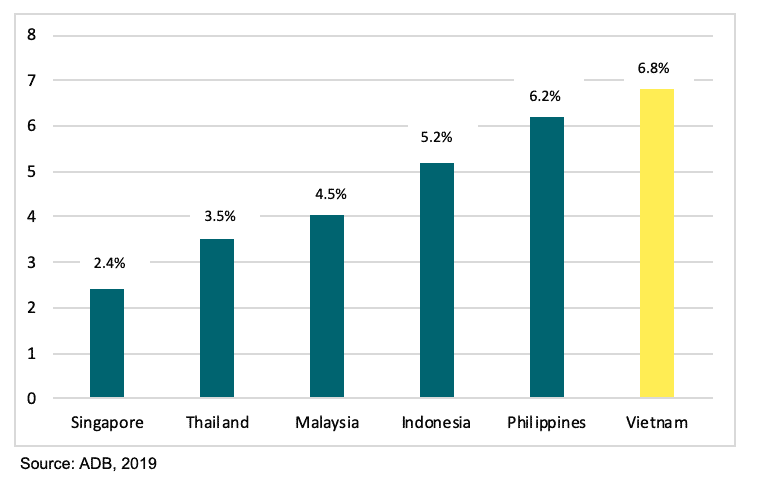 Chart 2: Ease of doing business, World Bank 2018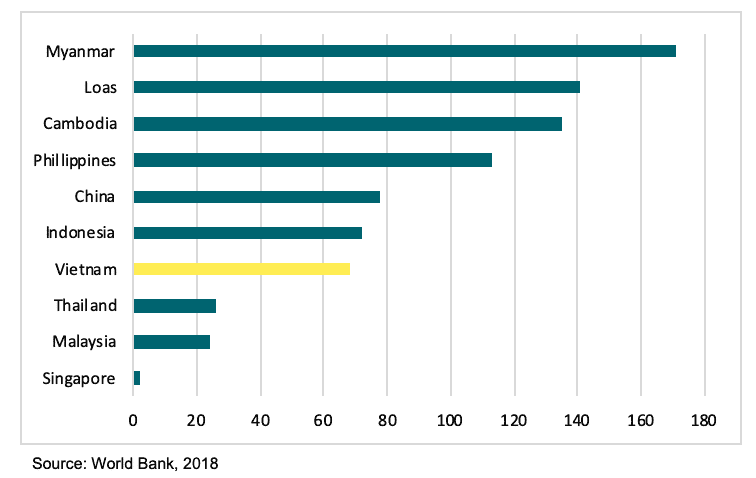 The country's manufacturing salaries remain attractive at approximately US$237 per month, competitive in comparison to Malaysia and Thailand, at approximately US$924 and US$412 per month, respectively, and extremely competitive against China's current wages averaged at US$866. Though low labor costs can't solely ensure long-term success or sustainable growth for the sector, it remains an important factor in the decision-making process of potential manufacturers, particularly in low value-added industries.
Chart 3: Manufacturers' workers salary, 2018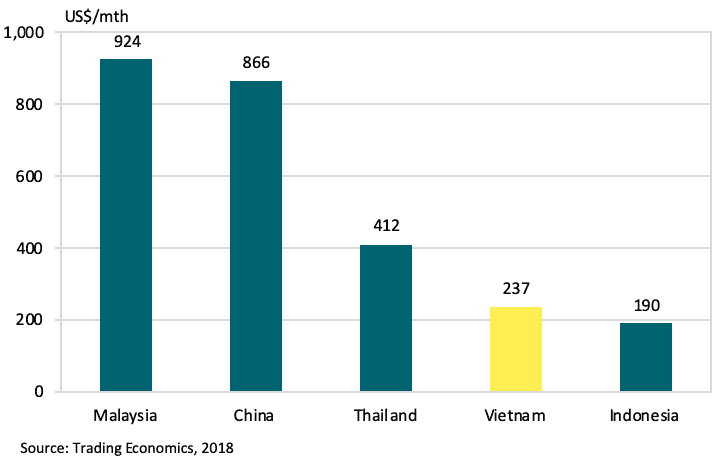 Q3/2019 FDI – growing contributions from Hong Kong and China
Manufacturing and processing account for 69.1% of total FDI inflow, contributing US$18.09 billion in Q3/2019; US$10.1 billion was poured directly into industrial parks and economic zones via 397 FDI projects. Partly due to the ongoing trade tensions, the highest contributions this year were from Hong Kong, whilst  China is now the fourth largest investor, up from fifth place in 2018.
New free trade agreements (FTAs) and implications
Viet Nam entering key FTAs enables economic development to shift from exporting low-value-added products to higher-value goods in electronics, vehicles and medical devices in addition to facilitating knowledge and technology transfers with developed economies.
The Comprehensive and Progressive Agreement for Trans-Pacific Partnership (CPTPP) was officially signed in January this year and is expected to increase Viet Nam's GDP by 1.32% by 2035.
The EU Viet Nam Free Trade Agreement (EVFTA) was finalized in June 2019, eliminating 99% of customs duties between the EU and Viet Nam. By enabling the ­latest production technologies and ­increasing workforce training, the Viet Namese government is actively easing qualms around viability, labour shortages, and rising costs. Moving to a more ­transparent business environment will help mitigate ­investor concerns and improve quality.
With these historic agreements taking place, the type of countries looking at Viet Nam is changing, resulting in higher demand for skilled labour and education.
A change amid trade tensions
The U.S.-China trade war has seen companies relocating or diversifying their manufacturing to Viet Nam due to the 25% tariffs by the US already in place on US$250 billion worth of Chinese imports and the possible additional 10% tariff on another US$300 billion worth of goods.
Goerteck (China) invested US$260 million into a manufacturing facility in Bac Ninh whilst Nintendo, Lenovo, Sharp and Kyocera have announced plans to shift production out of China.
Table 1: China to Viet Nam movers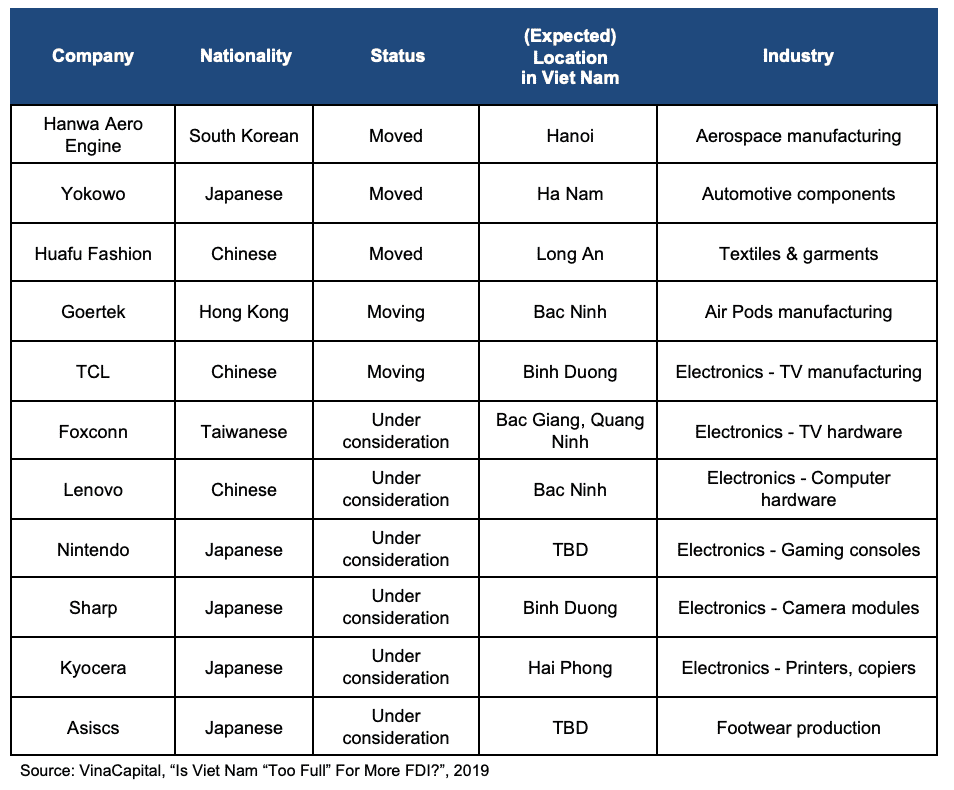 H1/2019 figures from UNCTAD's 2019 report "Trade and trade diversion effects of United States tariffs on China" show that Viet Nam is the biggest winner in Southeast Asia with key beneficiaries including communications equipment, furniture and electrical machinery. The report's data on trade diversion effects show considerable variance both across countries and sector, emphasising the inability of one economy to match China's production capacity.
Chart 4: H1/2019 Trade diversion effects, by economies and regional groups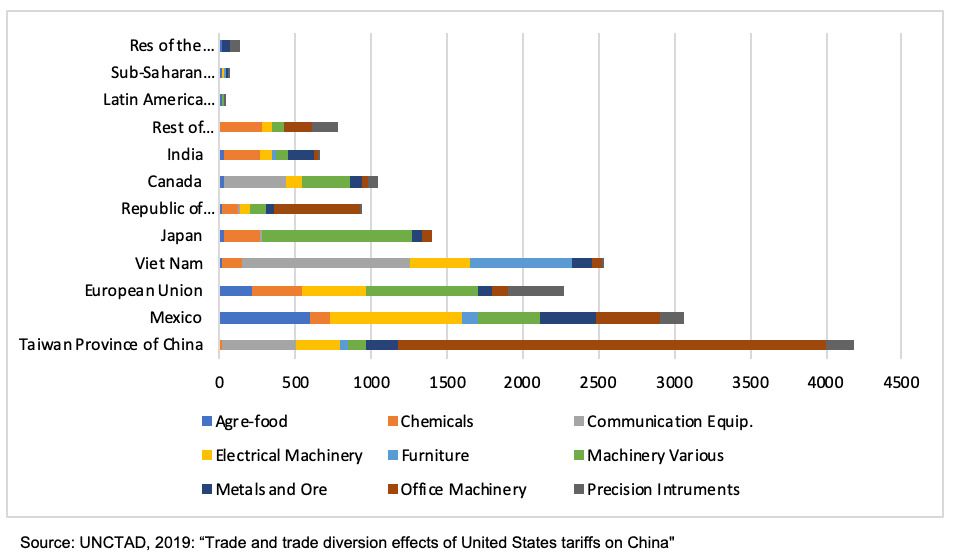 Fast changing logistics industry
As Viet Nam continues its emergence as a key industrial hub in Asia, investing in physical and digital infrastructure, including logistics, has become essential. As one of the fastest growing industries in the country, the logistics and warehousing industry is set to reach US$86.7 billion by 2022, according to Ken Research. Furthermore, the segment is expected to register a positive compound annual growth rate (CAGR) of 13.3% in the 2018-2022 period.
There are approximately 1,300 – 1,500 enterprises providing logistics services in a highly fragmented market landscape which includes a lot of SME's with low value-added service offerings. Local players have access to large land bank and can offer competitive prices but are generally restricted by their limited added-value services and access to capital and technology. Their foreign counterparts offer more added-value services such as packaging, labelling, automatic tracking and inventory management, as well as having more 3pl models.
Foreign companies now make up 70-80% of logistics market due to an array of mergers & acquisitions in recent years, leaving domestic firms struggling with fierce competition. Key examples include Symphony International Holdings Limited's 28.57% stake investment in ITL Corporation, estimated at US$42.6 billion; Sumitomo Corporation's (Japan) 10% stake investment in Gemadept Corporation, estimated at US$37 million; and CJ Logistics (Korea) US$127 million investment in stakes also in Gemadept Corporation.
Driving logistics potential is the country's geographical location with access to the world's major seaborne trade routes, consistent economic growth rate, huge shift of manufacturing projects rising logistics demand, continuous investment in infrastructure and logistics facilities, the growing retail and e-commerce market. E-commerce, growing at approx. 30%, is an interesting driver – Viet Nam's stable economic growth, large young population adapting to technology and shopping online, coupled with rising income levels provide a backdrop for the retail and e-commerce industry, driving logistics potential. However, warehousing demand is driving up rental prices near the central business districts and limiting last-mile delivery supply, creating challenges for large players in the online B2C space such as Lazada, Shoppe, Tiki and Sendo.
In the World Bank's 2018 Logistics Performance Index, Viet Nam stood out as a top performer among emerging economies, ranking 39th place out of 160 countries, jumping from 64th place in 2016. Despite its strengths, logistics costs still account for almost 21% of Viet Nam's GDP. Significant investment is still essential in key infrastructure and intermodal transport network links. Underdeveloped infrastructure and overburdening of road networks are a problem particularly near industrial zones, and port capacities need to be increased in addition to developing more efficient customs procedures.
Chart 5: World Bank's 2018 logistics performance index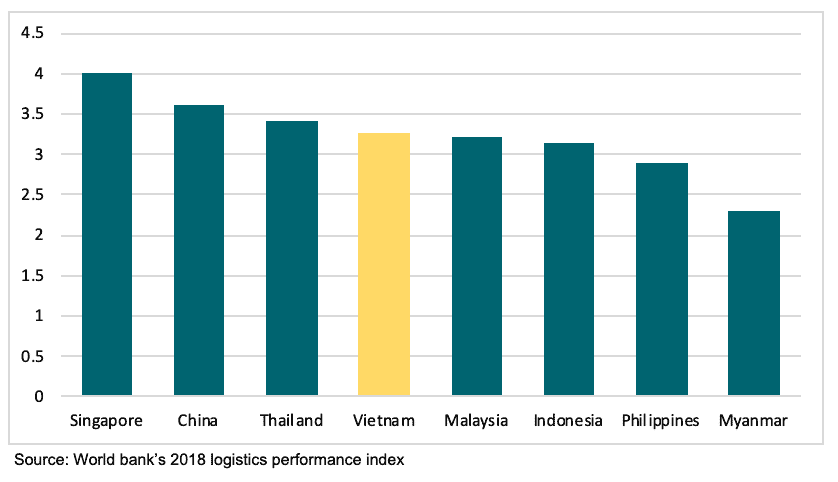 New rental solutions and transactions
More developers are offering ready-build factories (RBFs) and build-to-suit (BTS) solutions to end-users. This trend allows for quick market entry and is perfect for SMEs and assembly operations with gross floor area (GFA) requirements between 500 – 5,000m2. It provides a flexible exit strategy due to shorter lease terms in comparison to long-term commitments of up to 50 years (and 70 years in special economic zones).
Ready-built assets and BTS projects also provide the opportunity for investors and developers to meet the market demand of supporting industries and assembly operators and attain attractive yields on three, five and ten-year leases. With 300 ha across ten sites, the most significant 'for-rent' developer in Viet Nam the is BW Industrial JSC joint venture between Warburg Pincus (US) and Becamex (Viet Nam). Other developers of note include KTG Industrial and Kizuna (Viet Nam), Boustead (Singapore) and Daiwa House (Japan)
An increasing number of foreign investors are looking to gain access to sizeable industrial land bank via joint ventures with local developers, in addition to acquiring operating assets. The first sale and leaseback transactions occurred in the market, initially with DKSH selling and leasing back their facility in 2017. The most notable case was the 2018 sale and leaseback of Unilever's warehouse in VSIP 1, Binh Duong Province acquired by Mapletree Logistics Trust for approximately US$43 million. The asset was then leased back for Unilever Viet Nam on a 10-year lease term without interrupting business operations. The acquisition is expected to generate an initial net property income yield of 8.3% for the investor. Sale and leaseback transactions provide an alternative way for occupiers to remove real estate assets from their balance sheet and raise capital without borrowing from the banks; providing investors with attractive yields between 8-10%.
Q3/2019 Industrial land – demand continues to outpace supply
According to the Department of Economic Zone Management at the Ministry of Planning and Investment (MOPI), in September 2019, there were 327 established industrial parks on approximately 96,100 ha. Of these, 256 are operational, with demand continuing to outpace supply in functioning industrial parks; whilst occupancy was 75%, up from 74% in Q1/2019. There are 71 IPs under construction, site clearance or compensation, ensuring future supply.
Key economic zones and new investment locations
Key industrial provinces in the prominent Northern and Southern economic zones are experiencing significant year-on-year (YoY) increases in occupancy and rent, primarily attributed to the recent influx of projects from China. Occupancy and rent grew by 8.5% in Hanoi, and 6.25% and 12.9% in Bac Ninh respectively. In the south, occupancy and rent in Binh Duong increased 27% and 54% sequentially and 20% and 21% respectively in Dong Nai
NEZ provincial spotlight:
Hai Phong has become a vital industrial hub in the NEZ due to improving logistics infrastructure, abundant land supply, competitive land lease prices and active efforts by local government in speeding up site clearance and licensing procedures. Average occupancy and rent in the Northeast hub remain attractive at 72% and US$93/m2 respectively.
SEZ provincial spotlight:
As Cat Lai Port in Ho Chi Minh City continues to become over congested, more foreign manufacturers are considering Ba Ria-Vung Tau as an investment destination due to its proximity to Cai Mep Deepwater Seaport and an array of new industrial parks such as Phu My 3 IP and Chau Duc IP. Average occupancy is 70% while rent is competitive at US$55/m2, in addition to being conveniently located close to the future Long Thanh Airport.
Upcoming Central Economic Zone (CEZ)
With the influx of manufacturing projects, developers are actively trying to convert agricultural land for industrial usage to ensure future supply. The Central Economic Zone (CEZ) is picking up momentum as an alternative manufacturing investment destination to its north and south counterparts. Universal Alloy Corporation (U.S) has begun construction of its US$170 million aerospace components factory in Da Nang Hi-Tech Park. In addition to abundant land supply, land lease prices remain some of the most attractive in the country, ranging from US$27/m2 in Hue, to US$32 in Nghe An, US$35/m2 in Quang Nam, US$38/m2 in Quang Ngai and US$42/m2 in Danang.
Sustainable industrial development and introduction of eco-industrial parks
Supporting the gradual transformation of industrial zones into eco-industrial parks, the project "Implementation of Eco – industrial park initiative for sustainable industrial zones in Viet Nam" has been implemented by the Ministry of Planning and Investment (MPI) and the United Nations Industrial Development Organization (UNIDO) since October 2014 in pilot industrial zones: Khanh Phu & Gian Khau (Ninh Binh), Hoa Khanh (Da Nang) and Tra Noc 1&2 (Can Tho). The program's core objectives aim to increase the transfer, deployment and diffusion of clean and low-carbon technologies, minimize greenhouse gas emissions and water pollutants in addition to improving water efficiency and sounds management of chemicals (source: EIPVN, 2016).
Industry 4.0 and smarter manufacturing
Industry 4.0 is capturing the attention of countries globally, Viet Nam is no exception. A national strategy and proper legal framework for 4.0 and policies favouring the business and industrial community is essential. According to the Central Institute for Economic Management (CIEM), if medium-level technologies are applied, a 4.0 strategy is expected to see strong growth of 16% by 2030 in the manufacturing sector. Their research suggests the country's manufacturing sector has the potential to grow by an additional US$7-14 billion based on new technology applications. Lenovo and Schneider Electric recently announced a strategic partnership that will involve working together on smart green manufacturing solutions for the Chinese manufacturing sector. Both companies currently have strong operations in Viet Nam. As Viet Nam develops its economy and strategy for industry 4.0, these two industry leading companies are increasing their footprint in the country to meet growing technology demands.
Outlook and transition to higher-value industry
The industrial sector is growing actively with a tenfold increase in FDI over the last decade. However, Viet Nam must be more selective with projects to move up the value chain, improve competitiveness and ensure sustainable growth. This will include continued investment in infrastructure and intermodal transport network links; achieving higher standards of education and an increased supply of skilled labour through creating a national skills development plan; focusing on attracting priority sectors in hi-tech and smart manufacturing; reviewing and adjusting current incentives and policies for attracting foreign investment and adapt to and harness the benefits of industry 4.0 (source: MOPI: Recommendations for FDI Strategy 2020 – 2030). – Savills Vietnam