The COVID-19 pandemic has strong impacts on the global economy. After the cases of infection gradually decreased, countries also had policies to bring back production and business activities. At the same time, governments also make adjustments to attract foreign direct investment, and Vietnam, in order to become on of the top countries best to invest in, is no exception. So during the pandemic, how were FDI inflows to Vietnam? And what is the overview of foreign direct investment in Vietnam after the pandemic?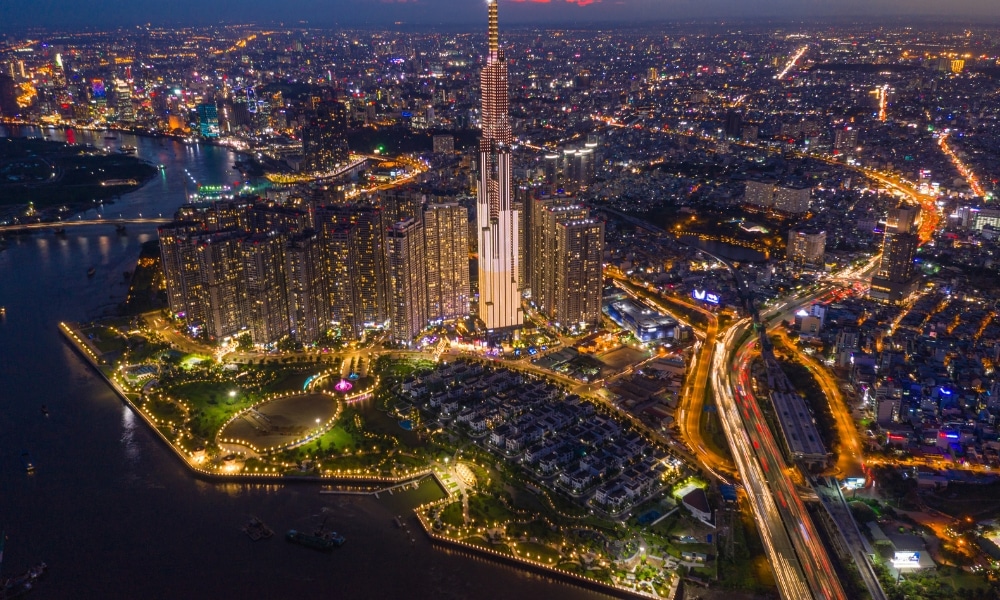 Economic Landscape 3 Years After the Pandemic
Foreign direct investment (FDI) is an indispensable part of the capital market and plays an important role in the development of economies around the world, especially developing economies. emerging economy. Therefore, the overview of foreign direct investment in Vietnam also attracts a lot of attention from domestic and international investors. The COVID-19 pandemic has not only affected the healthcare, education, and production systems, but it has also had a significant impact on the economic market, especially the global flow of foreign direct investment. According to the United Nations Conference on Trade and Development report, FDI has decreased by 30% in 2020 alone, even lower than during the economic crisis more than a decade ago. However, FDI inflows in 2021 had a significant recovery, reaching nearly $1.6 trillion.
FDI inflows into developing economies in 2021, although slower than in developed countries, will still increase by 30% thanks to strong growth in Asian countries. According to a report by the Organization for Economic Co-operation and Development (OECD), although in the third quarter of 2022, FDI inflows decreased by 7% compared to the second quarter, overall in the first nine months of 2022, they still maintained an increase of 16% compared to the same period in 2021.
Projects receiving FDI are mainly related to sustainable development industries, or "green" projects. Particularly in Vietnam, during the two years of the pandemic, besides the electricity processing, production, and distribution industries, real estate was the industry that attracted the largest FDI investment.
The Benefits of Foreign Direct Investment for the Host Country
Global capital flows have developed more freely since the 1980s. FDI inflows have increased significantly among them; in many countries, they are even regarded as a "driver" of growth. economic development. The benefits of foreign direct investment for the host country can be clearly seen, bringing many benefits to the economy of each country, and FDI invested in Vietnam is no exception. It would be remiss if the overview and analysis article on foreign direct investment in Vietnam did not mention the benefits that this capital flow brings.
First, it is certainly impossible to ignore the fact that foreign direct investment in the country can promote technology and bring job opportunities, thereby improving production and management capacity. At the same time, unlike other capital flows, FDI also involves long-term trade commitments. This can help countries expand their export markets. These are just the most outstanding benefits, each type of FDI and the unique characteristics of each country will have different impacts.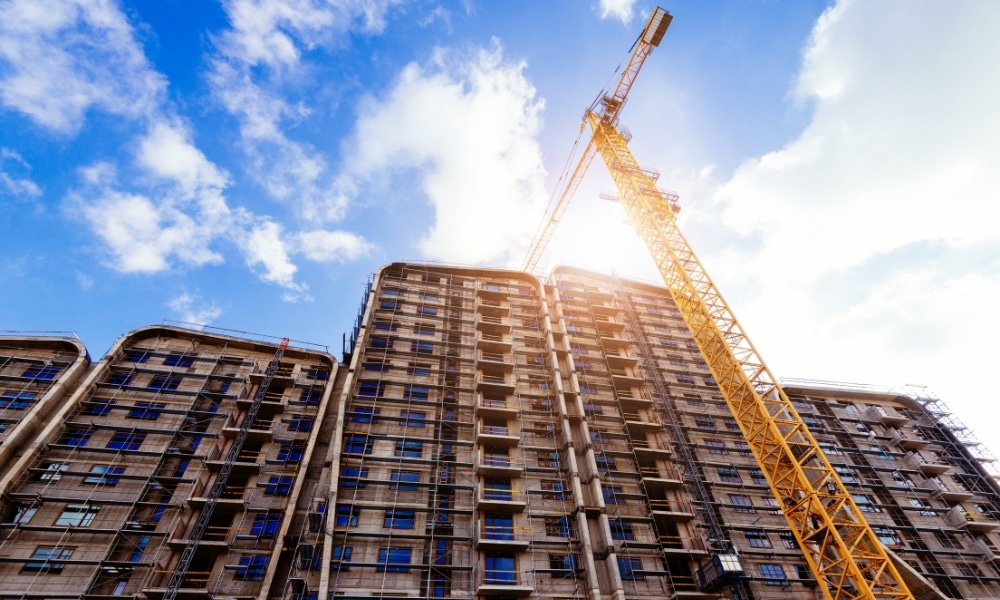 Read more: Is Vietnam One of The Top 20 Best Countries to Invest In?
Overview of Foreign Direct Investment in Vietnam
COVID-19 also has a certain impact on the Vietnamese economy. But basically, the overview of foreign direct investment in Vietnam still shows certain growth thanks to a number of policies to encourage foreign investment by the government.
Current Status of Foreign Direct Investment in Vietnam
After 2 years of fighting the pandemic, Vietnam in 2022 will have policies to be able to adapt, bringing activities back to normal gradually. As of March 2022, the total foreign investment capital in Vietnam had reached nearly 9 billion USD; by the end of 2022, this figure would have reached 27.72 billion USD. Although newly registered capital decreased compared to the same period in 2021, the number of projects increased significantly.
An overview of foreign direct investment in Vietnam mainly focuses on big cities with many industrial parks and convenient infrastructure. In this regard, Ho Chi Minh City maintains its lead, accounting for 3.94 billion USD, or 14.2% of total foreign investment capital in Vietnam. Binh Duong comes in second with $3.14 billion, followed by Quang Ninh with $2.34 billion.
Ranking of Foreign Investment Capital into Vietnam by Country
Currently, according to data from the Ministry of Planning and Investment, as of December 2022, 108 countries had invested capital in Vietnam. More specifically, the three countries with the largest foreign investment in Vietnam include:
– Singapore with more than 6.46 billion USD, accounting for about 23.3% of total newly registered FDI capital
– Korea accounted for 17.6% of total foreign investment capital in Vietnam with an investment of 4.88 billion USD
– Japan holds the third position when accounting for 17.3% when the total investment in Vietnam is 4.78 billion USD.
Current Status of FDI into Vietnam By Industry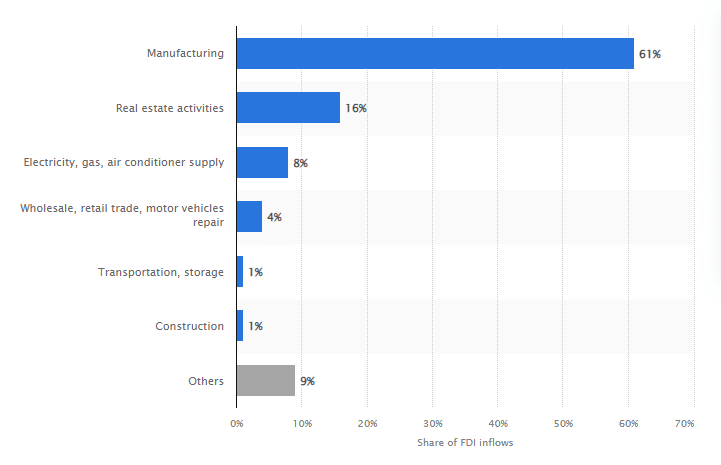 Up to 19 out of 21 industries in the Vietnamese economic system receive foreign direct investment. Leading among them is still the processing industry, with USD 16.8 billion, or more than 60% of the total FDI in the country. Although the real estate market, including industrial real estate, is said to have had a sluggish year, this industry still has the second largest FDI attraction with 4.45 billion USD registered. Holding the third position in the ranking of foreign direct investment capital into Vietnam by industry is the electricity production and distribution industry, with more than $2.2 billion, the rest are in other industries and fields.
Read more: Which Is The Best Country to Invest in Real Estate According to Economists?