Vietinbank organized an intensive conference on "Industrial Real Estate Prospects" for their employees in Hanoi. Mr. John Campbell, Savills Vietnam Industrial Services Manager was invited to share insights of the rapidly growing domestic market, its clear advantages and the challenge of Covid-19.
The event was broadcast live to many VietinBank branches and offices in provinces across the country. Mr. Do Nhat Hoang, Director of the Foreign Investment Agency; and Mr. Dang Hung Vo, former Deputy Minister of Natural Resources and Environment were also in attendance with Mr. John Campbell representing Savills Vietnam Industrial Services.
Viet Nam Industrial Real Estate growth continues while showing remarkable resilience to the Covid related downturn. Effective pandemic containment has added even more gloss to the national reputation with clear signs of increasingly significant foreign investment shifts into Viet Nam Industrial Real Estate.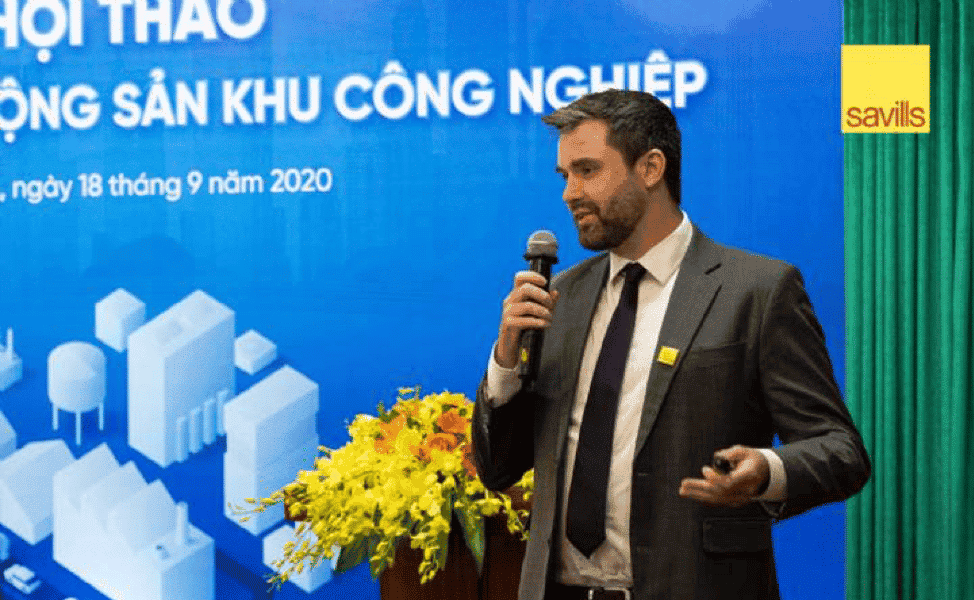 Multiple higher-value transactions in the first half of 2020 have further boosted global investor confidence. According to the Ministry of Planning and Investment (MOPI), Economic Zone Management Department, by September, the 327 industrial parks covering 96,100 ha are averaging 76% occupancy.
Mr. John Campbell reaffirmed key industrial province demand continues to outpace supply and the pressing need for more stock. Occupancies in key hubs Binh Duong and Dong Nai in the south; and Bac Ninh, Hung Yen, and Hai Phong in the north, have all risen significantly since 2018 to reach over 85% in 2020.
''In the first half of 2020, leases signed with Vietnamese developers fell sharply after Covid-19 related travel restrictions were imposed. When international travel resumes, Vietnam will start seeing a major supply chain shift from China. Local investors need to carefully plan to capture these golden opportunities.'' said Mr. Campbell.
Industrial sector growth has been powered by a tenfold increase in FDI over the last ten years. To move up the value chain, improve global competitiveness while ensuring sustainable growth, Viet Nam will need to be more selective with project quality. However, this will need continued infrastructure investment with improved intermodal transport network links. Higher standards of education with a national skills development plan to increase skilled labour supply. Gaining industry 4.0 benefits will mean prioritizing leading-edge sectors such as hi-tech and smart manufacturing while adjusting current foreign investment incentives and policies. The future looks bright for Viet Nam Industrial. – Savills Vietnam