WMedics take samples of workers at Quang Chau Industrial Park in Bac Giang Province for coronavirus tests, May 15, 2021. Photo by VnExpress/Hoang Phong.
Despite a new outbreak of COVID-19 in Viet Nam, new industrial zones have risen to establishment and key industrial projects has kickstarted their operation. Specifically, 2021 has witnessed new M&A deals and improvement in industrial land supply. The largest manufacturing projects in H1/2021 came from Hong Kong and Singaporean businesses that targeted Quang Ninh and Bac Giang.
Over two months into its fourth and most challenging wave, Vietnam is at the frontline of the covid battle again. As of July 14th, 2021, Vietnam's Health Ministry confirmed a total of 35,409 COVID-19 cases, 9,553 of which have recovered and have been discharged from the hospital. Most of the latest community transmission cases have been reported in the South in Ho Chi Minh City (HCMC), Dong Nai, Ba Ria-Vung Tau, Ben Tre, and Khanh Hoa. Authorities in Ho Chi Minh City shut down several factories in Saigon Hi-tech Park including the Samsung complex after more than 700 cases were detected at a factory there. Factories in the hi-tech park are now required to allow workers to stay within the premises to operate. Furthermore, authorities in Hanoi have ordered the closure of non-essential businesses such as indoor restaurants, cafes, and barbershops from July 13 due to rising cases.
Around nine provinces and cities have suspended flights to and from HCMC and local authorities have imposed restrictions on those entering and exiting the city. The Southern business hub will continue strict social distancing measures under Directive 10 until further notice due to the rising number of cases. Furthermore, Moderna COVID-19 vaccine has been approved for emergency use and is the fifth vaccine to be approved after Oxford-AstraZeneca, Sputnik V, Pfizer, and Sinopharm.
Finally, the country is expected to trial vaccine passports this summer where vaccinated foreign travelers will be allowed to quarantine for seven days compared to the present 21-day requirement. The trial will be done in Quang Ninh province and foreign travelers must self-isolate for another seven days after the initial week of centralized quarantine. The social distancing and domestic travel restrictions continue to pose difficulties for developers trying to lease their land, factories, and warehouses, as investors and potential occupiers cannot undertake site visits in other provinces. However, the roll out of the vaccinations and promises of a vaccine passport program are instilling confidence into landlords and investors alike. Given the obstacles facing this segment, the industrial sector continues its fight during the fourth wave of the pandemic.
Industrial Production
According to Trading Economics, Vietnam's industrial production rose by 6.8% year-on-year (YoY) in June 2021, slowing from 11.8% surge in May. This marked the fourth straight month growth in industrial output on the back of the ongoing COVID-19 pandemic, with output rising at softer rate for manufacturing (11.6% vs 14.4% in May). Considering the first six months of the year, industrial output advanced 9.3% over the same period of 2020.
Manufacturing PMI
The IHS Markit Vietnam Manufacturing PMI fell to 44.1 in June 2021 from a 53.1 in May. This represented the sharpest deterioration in business conditions since May 2020 and the latest reading ended a six-month period of growth, amid lockdown measures and temporary company closures as the country battled the latest wave of COVID-19 cases. Output and new orders both shrank the most since the pandemic began, while employment fell for the first time in five months. Furthermore, the pandemic also impacted supply chains, resulting in a near-record lengthening of delivery times. Meanwhile, the rate of input cost inflation remained marked, and firms raised their own selling prices marginally. Overall, firms remain optimistic that output will increase over the coming year.
Manufacturing Foreign Direct Investment (FDI)
By the 20th of June 2021, Vietnam attracted US$15.27 billion total registered FDI. The manufacturing and processing sector attracted a total of US$6.97 (45% of total inflows), with 273 new projects investing US$3.09 billion and 286 existing projects raising capital US$3.38 billion.
Year-on-Year (YoY), total registered manufacturing FDI is down to US$6.97 billion from US$8 billion in H1/2020, and newly registered manufacturing capital is down to US$3.09 billion from US$3.57 billion. However, H1/2021 existing manufacturing capital at US$3.38 billion remained higher than last year's figure of US$3.23 billion.
By region, the North received the majority of newly registered manufacturing investments with a substantial US$1.97 billion, representing a 64% share. The South followed with US$728 million (23%), while the Central region attracted US$395 million (13%). In terms of provinces, Bac Giang received the highest amount of newly registered manufacturing capital with US$589 million, closely followed by Quang Ninh with US$569 million, and Bac Ninh with US$222 million. Representing the South, Binh Duong came in fourth place with US$208 million.
By Nationality, Hong Kong invested the highest amount of manufacturing FDI in the first half of the year with over US$852 million, representing a 27% share. Singapore was in second place with US$655 (21%), followed by China with US$549 (18%), and South Korea with US$330 million (11%).
Chart 1: H1/2021 Newly Registered Manufacturing FDI – Power BI Dashboard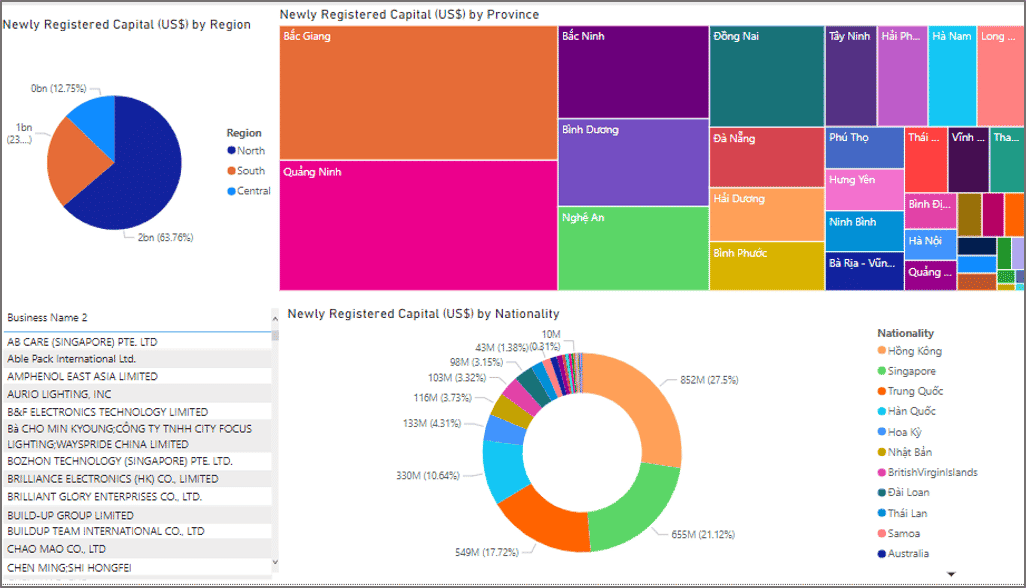 Source: MOPI & Savills Vietnam, 2021
Chart 2: H1/2021 Newly Registered Manufacturing FDI, by Province

Source: MOPI & Savills Vietnam, 2021
In terms of investors, the largest manufacturing projects in 6M/2021 were from Jinko Solar and Fukang Technology from Hong Kong and Singapore investing US$498 million and US$270 million in Quang Ninh and Bac Giang, respectively. Interestingly, none of the top manufacturing and processing investments in 6M/2021 were in the South.
Table 1: Largest Newly Registered Manufacturing Investments, 6M/2021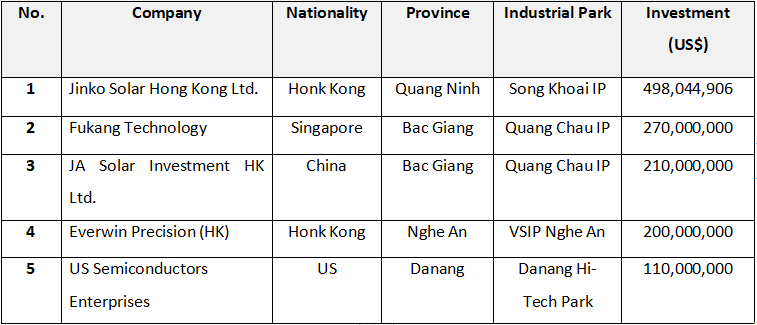 Rental Developers and M&As
Regarding M&A activities, 2021 witnessed new M&A deals. Boustead Projects singed an options agreement for the proposed acquisition of 49% interest in KTG & Boustead Industrial Logistics Joint Stock Company. If successful, the partnership will consist of 13 real estate seed assets (10 of which belong to KTG and 3 belonging to Boustead Projects) amounting to US$141 million in gross asset value covering about 840,000 m2 of land area and about 550,000 m2 of gross leasable area.
ESR Cayman Limited, the largest Asia-Pacific-focused logistics real estate platform, and BW Industrial Development JSC (BW), the leading logistics and industrial real estate developer and operator in Vietnam, have entered into a joint venture to develop 240,000 m2 in My Phuoc 4 Industrial Park near Ho Chi Minh City. The partnership marks ESR's entry into Vietnam, expanding the group's Asia-Pacific footprint in the high-growth Southeast Asia region.
Regarding new projects, Logos Property 81,000 m2 project in VSIP Bac Ninh 1 Logistics Park is expected to be live in Q4/2021. New player in the market, KCN Vietnam Group JSC, acquired a significant 250 hectares land bank with an investment of $300 million. They aim to develop premium, sustainable factories and warehouses for rent in Vietnam with a national portfolio spanning across Bac Giang, Hai Phong, Hai Duong, Dong Nai and Long An.
New Industrial Land Supply
In Q1/2021, there were 370 IZs across the country, covering an area of 115,200 ha, according to the Ministry of Planning and Investment. 328 of which are operating outside economic zones (EZs), 24 are in coastal EZs, and eight are in border EZs. Approximately 3.6 million jobs have been created in these projects.
Dozens of industrial zone projects in 13 cities and provinces covering have been approved in Q1/2021, promising thousands of hectares of new supply to accommodate investors in the next few years. Bac Ninh has the largest number of projects with five upcoming industrial parks (IPs). For example, Que Vo III IZ will have an area of 208.54 ha with a total investment of US$120.87 million. Gia Binh II IZ will have an area of 250 ha (developed by Hanaka Group) with the total investment of US$172.17 million. Quang Tri also expects new projects such as Trieu Phu IZ with a total area of nearly 529 ha. In addition, Quang Tri IZ will have an area of 481.2 ha and the total investment of US$90.17 million, which is developed by a joint venture of three investors, including Vietnam-Singapore Industrial Park (VSIP), Amata City Bien Hoa JS. Vinh Phuc also expect several new IPs which are expected to bring a total supply of 500 ha such as Song Lo, Tam Duong 1, and Thai Hoa-Lien Son-Lien Hoa. Furthermore, new projects are expected in Hai Duong, Vinh Long, Quang Nam, Thua Thien-Hue, Nam Dinh, and Nghe An.
In the South, Dong Nai People's Committee plans to develop three additional industrial parks (IPs) with the total area of 6,475 ha, which are expected to deal with the overload of existing IPs. Notably, three IPs are the 253 ha Long Duc 3, 2,627 ha Bau Can-Tan Hiep in Long Thanh district, and 3,595 ha Xuan Que – Song Nhan in Cam My district. These three IPs in Dong Nai were approved by the prime minister and added to the master plan on developing high-tech IZs through to 2020 with a vision to 2030.
Long An expects a new US$59 million IP project in Duc Hoa District. The Prime Minister granted in-principal approval for the project to build Century Industrial Park IP, which will be positioned in Huu Thanh commune in the southern province of Long An, with Hai Son Co., Ltd. acting as the developer. Covering over 119 ha, the project will be built at a cost of US$$58.9 million, US$17.4 million of which is investor's equity. Construction time must not exceed 36 months from the date of land allocation, and the project's operation duration will be 50 years from getting the approved investment proposal.
According to Long An Economic Zones Management Authority, the province will have about 1,500ha of additional cleared land in its IPs to cash in on rising foreign direct investment (FDI) flows into Vietnam in 2021. The sectors most appealing to foreign investors are textiles and garments, footwear, animal feed, poultry, seafood, food processing, beverages, and manufacturing.
By John Campbell on 15th July 2021
For more information on Vietnam's industrial sector, please reach out to: JCampbell@Savills.com.vn
Read more: Vietnam to see boom in supply of industrial property in 2021