HCM CITY —  The HCM City – Mộc Bài Expressway will reduce overloading of vehicles on National Highway No 22, the only road that currently connects HCM City and Tây Ninh Provinve, Hà Ngọc Trường, vice president of the HCM City Port and Bridge Association, has said.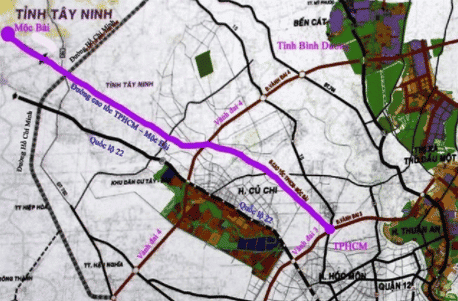 The new expressway will be 53.5km long, including nearly 24km in HCM City, and run from Ring Road No 3 in the city's Hóc Môn District to Mộc Bài International Border Gate with Cambodia in Tây Ninh Province.
It will help unlock the unique position of National Highway No 22, shorten travel time between the two localities, and reduce logistics costs, Trường said.
Project capital is estimated at VNĐ15.9 trillion (US$695.3 million), including VNĐ5.9 trillion ($258 million) for site clearance, compensation and resettlement costs in HCM City.
The project will be divided into two phases.
The first phase is expected to be completed by 2025 with at least four lanes. In the second, by 2045, it will be expanded to six lanes in Tây Ninh and eight lanes in HCM City.
A cooperation agreement between the city and Tây Ninh on the HCM City-Mộc Bài Expressway project was signed in 2019.
Under the agreement, the people's committees of the two localities will work together to speed up the progress of the project.
The city People's Committee will be in charge of compensation for ground clearance in the city, while the Tây Ninh Province People's Committee will be responsible for compensation in the province.
The two localities plan to complete site clearance and compensation for affected local residents and select the investors.
HCM City has been given the authority to make investment decisions pertaining to the expressway.
By the end of the year, a pre-feasibility report on the project will be submitted to the Prime Minister for approval of investment.
Trường said it was necessary to learn lessons from shortcomings in other expressway projects now under construction.
The city needs to have special investment incentives to attract domestic and foreign investors, he said.
HCM City and Tây Ninh are among eight provinces and cities in the southern key economic zone along with Bình Phước, Bình Dương, Bà Rịa – Vũng Tàu, Đồng Nai, Long An and Tiền Giang provinces.
The new expressway is expected to ease traffic congestion and facilitate economic growth in the southern region, especially in industrial parks, export processing zones and the Mộc Bài Border Gate Economic Zone.
It will also enhance transport connectivity and promote trade between Việt Nam and neighbouring countries.
By Vietnamnews