The supply chain is shifting to Asia, making this region the center of the world's commercial activities, which will bring a lot of opportunities for investors to pour money into potential industrial zones in Southeast Asia. In light of these shifts, how can companies best position themselves to spur economic growth in 2023? And which country will become an attractive destination for investors? Read on as we analyze the market to catch the trend in industrial real estate in the coming year.
Southeast Asia, the new supply chain of the global economy
The impact of the pandemic, the Sino-US trade war, and difficulties in the production process have caused global supply chain problems to be disrupted, becoming more and more serious. The impact of the conflict between Russia and Ukraine in particular serves as a reminder that there is no set schedule for the recovery of the world supply chain.
In response to this circumstance, many companies have begun searching for new supply chains to secure their right to access goods without affecting the current state of the world economy. Manufacturing electronic chips and microchips is one of the sources of technology that many nations lack. Most Southeast Asian countries are trying to stay neutral on political issues, so the region has the potential to become a global supply chain for world trade.
For the first time, ASEAN has cooperated with OECD countries to establish the OECD-Southeast Asia Business Network. This network will increase cooperation, linkage, and trade between the business community, sign FTAs, and strengthen the process of communication between organizations and the governments of member countries in efforts to recover and develop the economy of the region.
ASEAN economic growth recovers to 3.4% in 2021 from a decline of 3.2% in 2020. FDI inflows into the ASEAN region reached about US$179 billion annually in both 2019 and 2021, but have been disrupted due to the pandemic in 2020, reaching only 137 billion USD.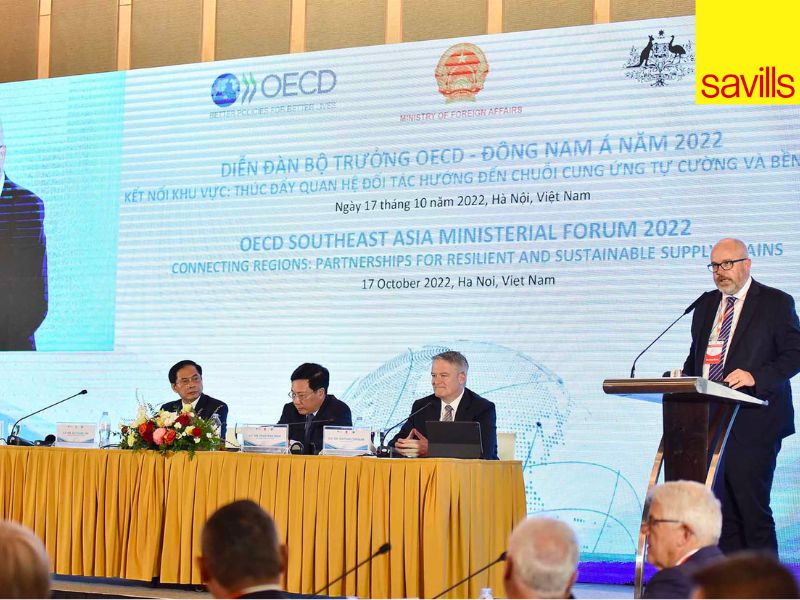 Forum for cooperation between OECD countries and Southeast Asia, promising to create a strong international linkage network
Given the region's rapid commercial development, many analysts have predicted that international e-commerce companies will find it challenging to compete in Southeast Asia. Since there are more local companies in the supply chain to fulfill the demands of quick shipment and satisfy the requirements of customers around the world. This doesn't mean that large enterprises will be completely eliminated, rather, transport enterprises focused on Asia would bring more advantages to enterprises.
Multimodal transport will become the new normal. In the event that air and sea routes cannot be used due to embargoes, the Asia-Europe railway will be the best option for transporting goods and raw materials to all countries.
Southeast Asia's emergence as the new global supply chain has created a premise for the industrial real estate market to recover and grow strongly. However, competitive industrial park rental costs in Southeast Asia will also become a challenge for businesses if they do not seize opportunities and anticipate the shifting trend.
Numerous prospects for growth in the industrial real estate industry await in 2023
In 2022, with the impact of free trade agreements and open-door policies in countries after the pandemic, the industrial real estate market will have developed quite well. ASEAN members with a share in greenfield investment received USD 10.3 billion, accounting for 43% of the total greenfield investment sector in the Asia-Pacific region. In which, Singapore attracted 3.3 billion USD (accounting for 32%), Vietnam attracted 2.9 billion USD (accounting for 28%), and finally, Indonesia attracted 1.5 billion USD (accounting for 15%).
The influence of international relations among countries around the world will open up many opportunities for international links and investment opportunities in other regions. Southeast Asia will be an attractive destination for the EU European countries, etc.
– China's "Zero COVID" policy has caused production chains to shift to SEA countries, such as Vietnam, Singapore,…
– The war between Russia and Ukraine, along with embargo policies, has sparked unprecedented geopolitical and economic crises in Europe and spread globally. Although still affected by this crisis, ASEAN countries are still open markets, attracting cash flows to potential industrial zones in Southeast Asia.
– After the trade war between China and the US in early 2018, many US enterprises changed their supply chains to reduce their dependence on China. Open up opportunities for developing countries to get FDI.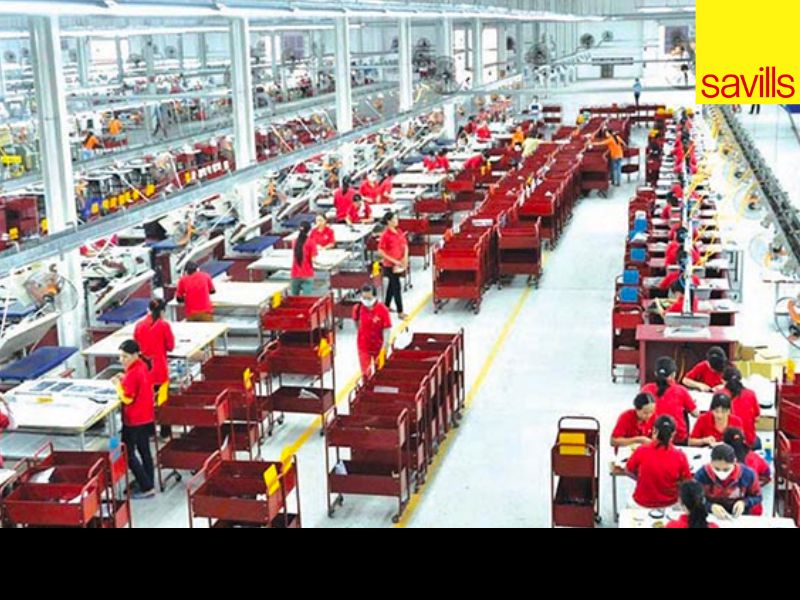 The industrial real estate market will have many opportunities to recover and create strong momentum in the future.
In each country, there are different policies to attract FDI depending on economic conditions, financial potential, and economic trading systems. Many Vietnamese enterprises believe that there will be many opportunities for economic recovery in 2023.
In summary, the following strategies will be included: First, focus on service improvement. Second, priority is given to ensuring employee stability and job security. Third, promote investment and expand goods, especially technology solutions. Fourth, develop and complete the legal framework for green building projects. Finally, believe in the government's attraction strategy and policies.
With the changes and influences of the international situation, there will be many opportunities for the members of the Asia-Pacific Economic Cooperation (APEC) to expand and grow strongly. However, each country needs to seize the opportunity to get out of the crisis and create momentum for development. In particular, the real estate market is still an attractive investment channel in 2023. Many experts believe that industrial real estate will start to boom in the fourth quarter of 2023 and continue to do so through 2024.
3 Southeast Asian destinations that will attract investors in 2023
A general assessment of the potential of the industrial real estate market in Southeast Asia, Vietnam, Japan, and Singapore are three attractive destinations for investors in 2023 in Asia-Pacific Economic Cooperation (APEC), based on the following factors: growth prospects, economic diversity, orientations of governments, and the linkage of economic sectors to promote development. It is predicted that FDI inflows will flow strongly into potential industrial zones in Southeast Asia, leading to an increase in demand for the rental or purchase of industrial real estate.
In Vietnam, the change in development orientation of Vietnam's high-tech, environmentally friendly industrial parks; the government's preferential policies, support, and investment attraction have been increasing the interest of foreign enterprises.
As of December 27, 2022, the total FDI capital into Vietnam reached more than 27.7 billion USD, with 2,036 newly registered projects and 1,107 projects with adjusted registered capital. In particular, the real estate industry ranked second with 4.45 billion USD of FDI capital, accounting for 16.1% of total FDI capital. This has shown the right development orientation of the government and the necessary changes of enterprises to meet the needs of enterprises, promoting strong domestic growth.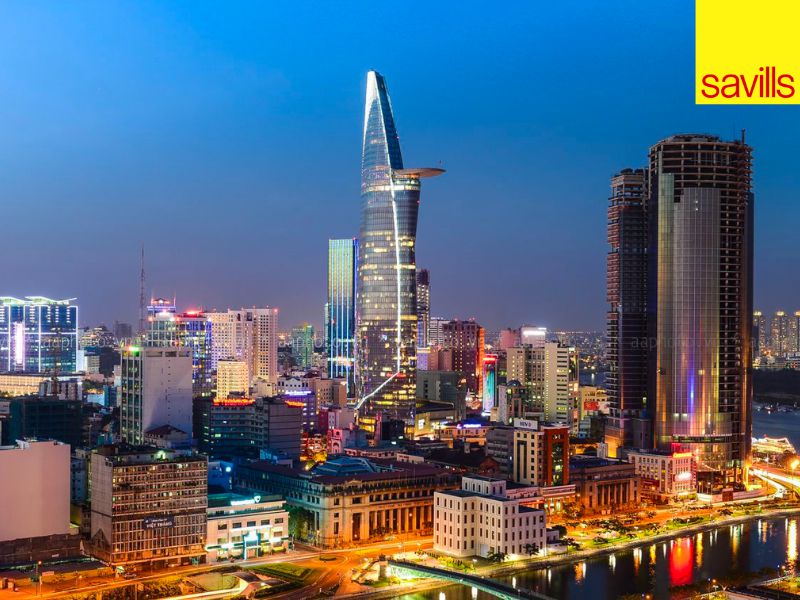 Vietnam is a strong attraction for foreign investors in 2023 thanks to transformational policies
The GDP's continued expansion from 2019 to 2022 is another evidence of Vietnam's ability to attract foreign capital. As a result, the GDP will expand by 8.02% in 2022. Vietnam's GDP has grown 10 times compared to 2000. It can be seen that Vietnam's economy has made steady progress, raising the country's position in the international market and attracting global investment.
The industrial real estate market in Vietnam will emerge from a recession in the first quarter of 2023, according to experts, but it will stay quiet. At the same time, the market supply is still limited, which will be a big challenge for our country in 2023.
Singapore has always been a strong attraction for foreign investors. In the first 6 months of 2022, Singapore had 142 FDI-registered projects with a total capital of up to 8.2 billion USD, double that of Malaysia and other countries in the region. In particular, the green field is always the first choice of countries when coming to Singapore.
In light of the fact that electronic chips continue to be in short supply, Singapore continues to receive a lot of investment projects from businesses in the semiconductor field. The success of Singapore is in stark contrast to China, where businesses have tried hard with the "Zero COVID" policy, but the results have not been as expected.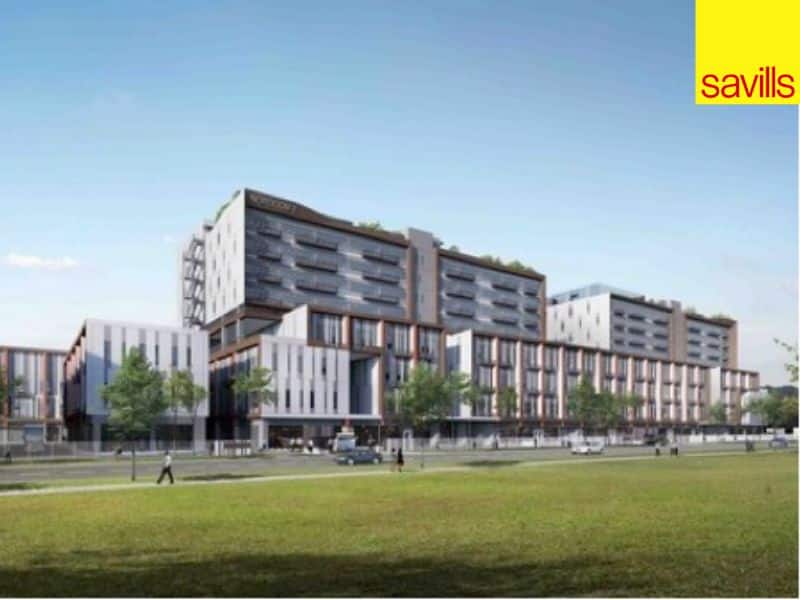 Singapore becomes a potential Greenfield investment country in Southeast Asia
It is these favorable conditions that have helped rental activity in Singapore boom. Adjusted rents increased by 8.6% in the third quarter of 2022, during which warehouse rents recorded a growth of 2.8% over the same period last year. This is the largest increase in this country in this period—the past 15 years. With this amazing growth, Mr. Alan Cheong, Head of Research and Consulting at Savills Singapore, has predicted that, despite the impact of global economic fluctuations, industrial real estate rental prices in this country will continue to see strong growth in 2023.
In Japan, the Central Bank maintains the lowest interest rates in order to minimize the burden on investors, given that investors around the world are reeling from the cost of finances. The weakening of the yen also makes real estate in Japan more affordable for investors.
Wrap up
Faced with the global economic crisis, the supply chain was disrupted, which had a significant effect on the global growth rate. With its inherent potential and strong internal resources that are not directly affected by major political issues, Southeast Asia has become a "new airport" for the Group's landings in the world.
The diversity of the local manufacturing supply chain, combined with the global chain, has transformed this region into the world's new supply chain. Specifically, opening up new potential opportunities to promote the development of industrial real estate and attracting investment capital into potential industrial zones in Southeast Asia. In particular, the markets of Vietnam, Singapore, and Japan are expected to be three potential areas to receive foreign investment.