Vietnam's industrial zones (IZs) are a popular destination for foreign investors looking to explore the SEA market potential, thanks to their competitive facilities, infrastructure, and logistics. In 2023, there are over 300 IZs in Vietnam, with a total area of over 70,000 hectares. The IZs are located in all three regions of Vietnam: the North, the Central, and the South.
The government of Vietnam offers a number of incentives to foreign investors who set up businesses in IZs. These incentives include tax breaks, land grants, and access to utilities and infrastructure.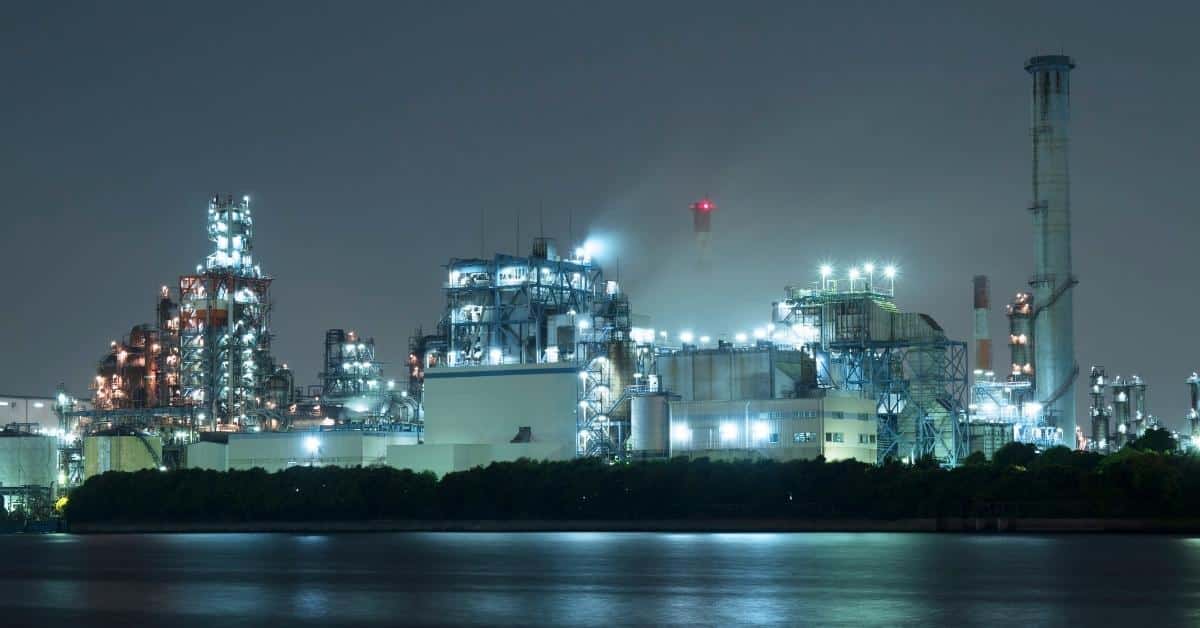 What is the Vietnam Industrial Zone?
Vietnam's Industrial Zones (IZs) are a popular location for international investors. But what exactly are they? Vietnam industrial zone is a government-designated area in Vietnam for the industrial production of products and services.
Investors often choose to locate in an IZ because the facilities, infrastructure, and logistics are generally regionally competitive. Foreign-invested enterprises may also take use of the IZ's resources, as well as cost reductions and financial incentives.
Nonetheless, IZs vary greatly in terms of location, organization, incentives, and so on. Investors considering establishing a presence in an IZ should do extensive research to discover the optimal location for their objectives. When deciding whether or if an enterprise in an IZ makes sense for a certain investment, investors need to examine various variables.
It is becoming more vital to learn more about IZs.
The largest IZ in Vietnam is the Saigon Hi-Tech Park (SHTP) in Ho Chi Minh City. The SHTP is home to over 1,000 companies, including Samsung, Intel, and Canon. Other major IZs in Vietnam include the Binh Duong Economic Zone, the Hanoi Export Processing Zone, and the Da Nang Export Processing Zone.
According to Savills, the occupancy rate in Vietnam's IZs is currently at 85%. This is due to the strong demand for IZ space from foreign investors. In 2023, Savills expects the occupancy rate to remain high, as more and more companies look to Vietnam as a manufacturing hub.
The average rent for factory space in Vietnam's IZs is around USD 5 per square meter per month. However, the rent can vary depending on the location and the size of the space. For example, the rent for factory space in the SHTP is higher than the rent for factory space in other parts of Vietnam.
Here, we identify and analyze three industrial zones in the country's north, middle, and southern regions that international investors might begin investigating. Hopefully this might provide you and your team an excellent starting point for determining your future investment location.
Vietnam Industrial Zone Map
The occupancy rates of Vietnam's industrial zones (IZs) have continued to grow in 2023, with some areas reaching 100% capacity. This is due to a number of factors, including the country's strong economic growth, its strategic location in Southeast Asia, and its favorable investment climate. The occupancy rate of IZs in the northern region of Vietnam reached 85% in 2023, up from 80% in 2022. The occupancy rate in the central region also increased, from 75% to 80%. The occupancy rate in the southern region remained relatively stable, at 90%.
Dozens of industrial zone projects were authorized in 13 cities and provinces, offering thousands of hectares to meet future demand. Northern province of Bac Ninh has the most projects, with five IZs approved with a total land area of 1,189 hectares. The largest project is the Que Vo III IZ with a land area of 208.54 hectares and a total investment of US$120.9 million. Other provinces with a significant number of approved IZ projects include Quang Tri (4 IZs, 963 hectares), Vinh Phuc (3 IZs, 500 hectares), Hai Duong (2 IZs, 400 hectares), and Hung Yen (2 IZs, 300 hectares).
New developments are also underway in Hai Duong, Hung Yen, Vinh Long, Quang Nam, Thua Thien-Hue, Nam Dinh, and Nghe An.
Vietnam's industrial parks (IPs) are continuing to grow in popularity, with the country attracting record levels of foreign direct investment (FDI) in recent years. In 2023, the South is expected to receive an additional 6,475 hectares of IP land, which will help to supplement the current overburdened IPs.
The new IPs will be located in Long Thanh District, Bau Can-Tan Hiep District, and Cam My District. The Long Thanh IPs will be developed by the Vietnam National Oil and Gas Group (PetroVietnam) and the Bau Can-Tan Hiep IP will be developed by the Becamex IDC Corporation. The Xuan Que – Song Nhan IP will be developed by a joint venture between the Vietnam Rubber Group and the Korea Land and Housing Corporation.
The development of these new IPs is in line with Vietnam's goal of becoming a high-tech manufacturing hub. The country is already a major exporter of textiles and apparel, footwear, and electronics. The new IPs will help to attract even more foreign investment in Vietnam, as well as in other high-tech industries such as pharmaceuticals and automotive manufacturing.
In addition to the new IPs, Long An Province is also planning a new 119-hectare IP project called the Century Industrial Park. The project is being developed by Hai Son Co., Ltd. and is expected to cost US$59 million. The Century Industrial Park will be located in Duc Hoa District, which is a major manufacturing hub in Long An Province.
List of Industrial Zone in Vietnam
The North Key Economic Zone (NKEZ)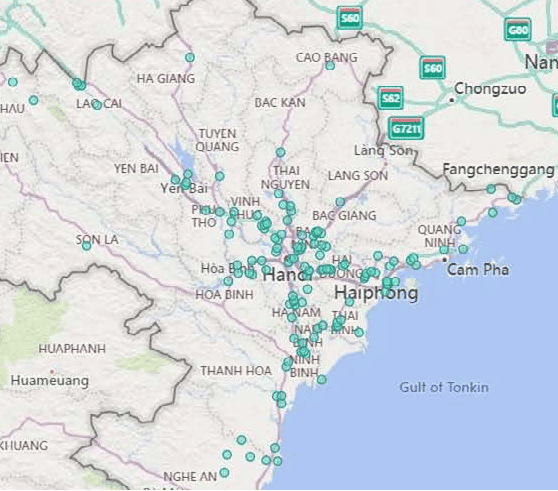 The North Key Economic Zone (NKEZ) is one of the most dynamic industrial real estate markets in Vietnam. It includes the provinces of Hanoi and Bac Ninh, as well as Hung Yen, Vinh Phuc, Hai Duong, Hai Phong, and Quang Ninh. The NKEZ is home to a wide range of industries, including manufacturing, electronics, and logistics.
In 2023, the occupancy rates in the NKEZ remained high, with Hanoi leading the way at 100%. Bac Giang was close behind at 96%, followed by Bac Ninh (91%),  Hai Duong (85%), Hung Yen (77%) and Hai Phong (68%).
North Vietnam industrial park investors gain from access to utilities as well as regulatory help that ensures operations run at maximum capacity. For enterprises looking for rapid alternative sources of production, the ability to acquire ready-made factories and tap into Hai Phong's highly skilled labor pools ensures that operations can be built and staffed on time. Exporters benefit from proximity to Cat Bi International Airport, the recently built Highway 5, and the Chinese border.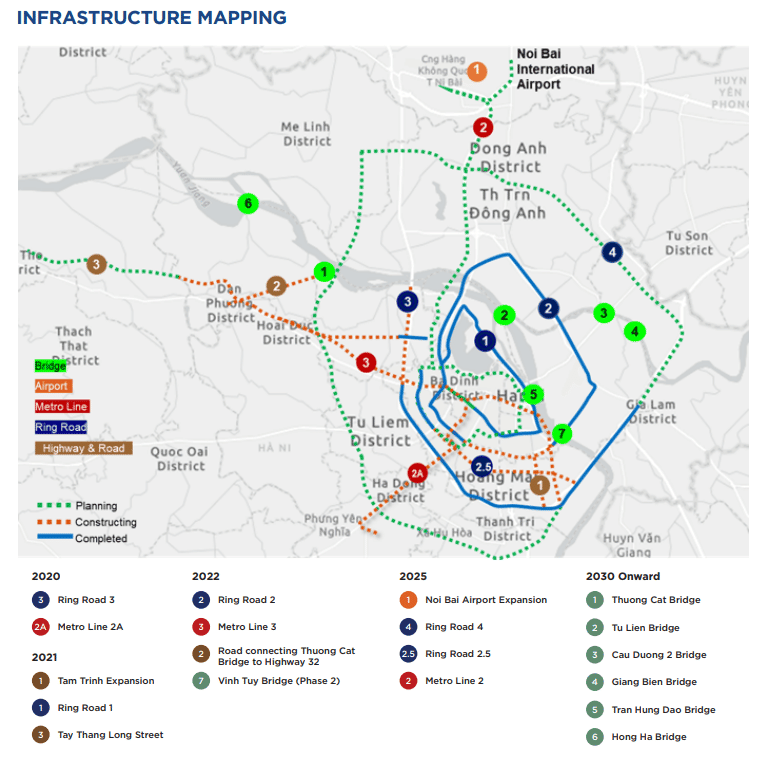 Unconditional tax holidays give direct cost savings possibilities that may be reflected into expenses immediately for enterprises interested in fully exploiting Vietnam's cost competitiveness.
Potential Properties Available in NKEZ
– Bac Ninh:
+ Ready-built Factory/Warehouse for Rent
– Ha Noi:
– Ha Nam: Industrial Land for Lease in Ha Nam
– Hai Duong:
+ Good quality Factory for Rent
– Hai Phong:
+ High quality Factory for Rent
– Hung Yen:
The Central Key Economic Zone (CKEZ)
The Central Key Economic Zone (CKEZ) is a government-designated economic zone in central Vietnam. It consists of five provinces: Thua Thien Hue, Da Nang, Quang Nam, Quang Ngai, and Binh Dinh.
The CKEZ is a major industrial and manufacturing hub in Vietnam. In 2023, the zone accounted for 12% of Vietnam's total industrial output. The primary industries in the CKEZ are food processing, textiles, building materials, and paper and forest products. However, sectors such as oil and gas, shipbuilding, logistics, and other high-tech industries are expected to grow rapidly in the coming years.
The CKEZ is one of the most attractive investment destinations in Vietnam, it has a number of advantages for investors. The zone has a well-developed infrastructure, including roads, railways, airports, and seaports. It also has a large pool of skilled labor. In addition, the government offers a number of incentives to investors in the CKEZ, such as tax breaks and land concessions.
Potential Properties Available in CKEZ
– Quang Ngai:
– Da Nang:
+ High Quality Factory for Rent
– Binh Thuan:
The South Key Economic Zone (SKEZ)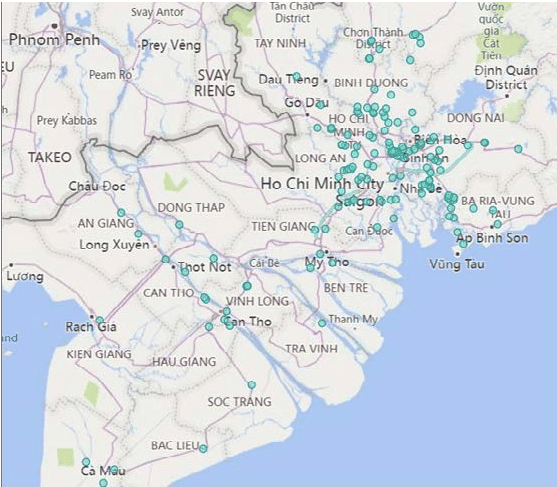 This zone encompasses the provinces of Ba Ria-Vung Tau and Binh Duong as well as the cities of Ho Chi Minh City, Dong Nai, Long An, Tay Ninh, and Long An.
There are several benefits to investing in SKEZ, including its closeness to HCMC, Vietnam's economic hub, Cat Lai Port is located inside the city borders of HCM, and there is a ready supply of qualified workers from reputable educational institutions.
Industrial, commercial, and residential facilities are seamlessly integrated into Vietnam industrial park to fulfill the demands of a wide range of investors. An onsite customs office, prefabricated factories, and a trained staff from the Vietnam-Singapore Vocational College are all available to investors in the park. 
Occupancy rates in 2023 in SKEZ in 2023 are as follows:
– Ho Chi Minh City: 98%
– Binh Duong: 98%
– Dong Nai: 93%
– Ba Ria-Vung Tau: 72%
– Tay Ninh: 70%
– Long An: 84%
These occupancy rates are slightly lower than in 2021, but they are still very high, indicating that there is strong demand for industrial space in SKEZ.
Additionally, these services are supported by their closeness to Ho Chi Minh City, Tan Son Nhat International Airport, and several places of sea-based transportation, such as Saigon Port.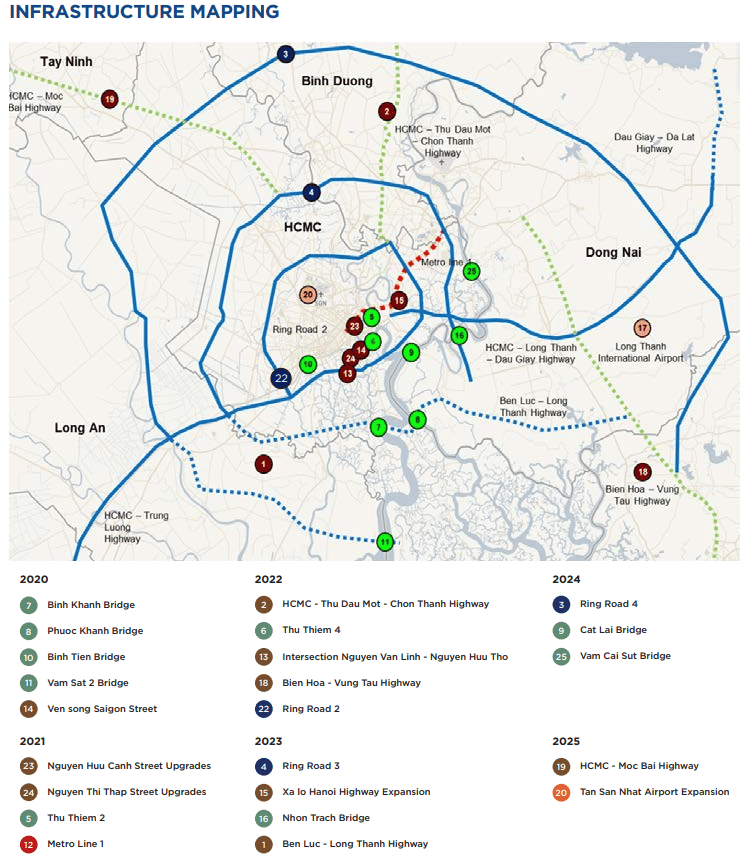 Investors may save on transportation costs by being close to HCMC and the key south ports, and they can also take advantage of the highly qualified workforce in HCMC, with some of the property that are available on Industrial Savills' property page.
Potential Properties Available in SKEZ
– Dong Nai:
+ Industrial Land for Sale in Long Thanh
+ Industrial Land for Sale in Nhon Trach
+ Factory for Sale in Xuan Loc
+ Factory for Sale in Bien Hoa
+ Factory for Lease in Tam Phuoc
+ Factory for Lease in Long Thanh
+ Factory for lease in Nhon Trach
+ Warehouse for Lease in Loc An Binh Son Industrial Park
– Binh Duong:
+ Factory for Sale-Leaseback in Bau Bang
– Ba Ria – Vung Tau:
– Long An:
+ Single ready-built Factory for Lease
– Ho Chi Minh City:
+ Warehouse for Lease near Cat Lai Port
+ Multi-storey Factory for Lease in Binh Tan
– Tay Ninh:
– Ninh Thuan:
Why Foreign Investors Should Consider Industrial Zone in Vietnam
The infrastructure of Vietnam Industrial Park
Industrial parks in Viet Nam are generally judged on their infrastructure. Prior to significant industrialization, the country's infrastructure lagged behind, which made it difficult for industrial parks to succeed in the past.
Transport to and from airports, ports, and train terminals is made simple by the presence of industrial parks near major roads. Five provinces were ranked as having the finest infrastructure in the 2018 Provincial Competitiveness Index: Binh Duong; Da Nang; Vinh Phuc; Hai Duong; and Ba Ria-Vung Tau.
Qualified and Abundant Workforce
The cheap cost of labor is a major draw for overseas investors. Cities like Hanoi and Hai Phong, in particular, in the north, have a plentiful supply of workers.
In comparison to other locations, finding qualified employees in the Central region might be more difficult. The north and south of the country tend to have more prospects for workers in technical professions. It's possible that foreign investors will have difficulty finding and maintaining qualified employees, especially at the highest levels of the organization.
There are many educational institutions in Ho Chi Minh City and the surrounding area that encourage and cultivate talent; yet, the competition for this talent is fierce.
Industrial employees and managers may expect to earn anything from $500 to $2,000 a year, depending on their sector and degree of expertise. Taking into account overtime, overtime pay, and social insurance is also important.
Incentives for Vietnam Industrial Zone
Exemptions or reductions in CIT, VAT, and import taxes are only some of the tax breaks available, which are given depending on the industry and location of the firm.
Education, healthcare, sports, culture, high technology, environmental protection, scientific research, infrastructure development, and software manufacture are all examples of regulated promoted sectors. Industrial parks, export processing zones, high-tech zones, and economic zones are examples of administrative divisions or sites with investment incentives.
In addition, investors will get import tax exemption and land leasing incentives. The kind of incentives and exemptions available will vary by business and geography.
The Expense for Industrial Zone in Vietnam
– In the North
Price increases have been more mild in comparison to the 2018-2020 timeframe, owing to travel limitations and generally steady occupancy levels. Prices in Ha Noi climbed to US$129/m2, Bac Ninh to US$106/m2, Hai Phong to US$101/m2, and Hai Duong to US$79/m2. Hung Yen prices increased by 22% year on year, reaching US$101/m2.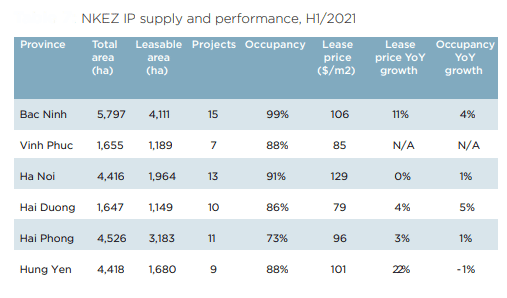 – In the South
Vietnam Industrial park in large cities had small price increases, similar to those seen in the North from 2018 to 2020. In 2021, IP lease costs in HCMC were $161/m2, in Long An they were $138/m2, in Binh Duong they were $108/m2 and in Dong Nai they were $104/m2 Ba Ria-Vung Tau had the largest increase in prices, up 45% to US$94/m2 YoY.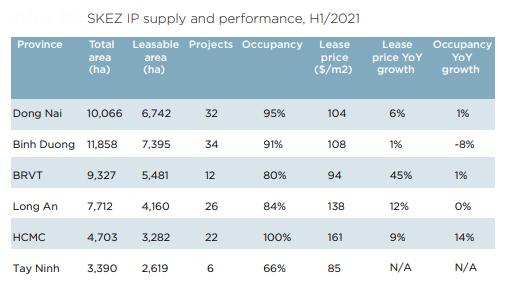 Setbacks When Looking for a Factory for Rent in Vietnam
Inconsistencies in pricing
Investors simply cannot afford the high costs of factory for rent in large cities in three key zones. The rental fee in other industrial zones in Vietnam on average typically varies from $2 to $4 per m2 per month. In a hi-tech major industrial zone in Vietnam, rents will vary from $5 to $6 per square meter per month or more. As a result, pricing issues are one of the challenges for enterprises.
It is difficult to locate tiny plots of land in Vietnam industrial zone
It is tough to discover tiny locations for rental in CNCs since it was designed to execute large and high-quality projects. CNC zones typically range in size from 1000m2 to many tens of thousands of square meters. As a result, if a company wants to hire a space as tiny as 100-500m2, the CNC area is out of the question. As a result, CNC developers have lost a huge number of clients in the small market.
Limiting professions in the industrial zone and the Vietnam industrial park
In reality, the high-tech park in Vietnam's industrial zone is not open to all sectors. It is only suited for select sectors due to the stringent standards, restrictions, and operational characteristics. Information technology, biotechnology, new materials technology, and automation technology are examples of these. This reduces risks for these firms while also increasing growth potential for other qualified enterprises.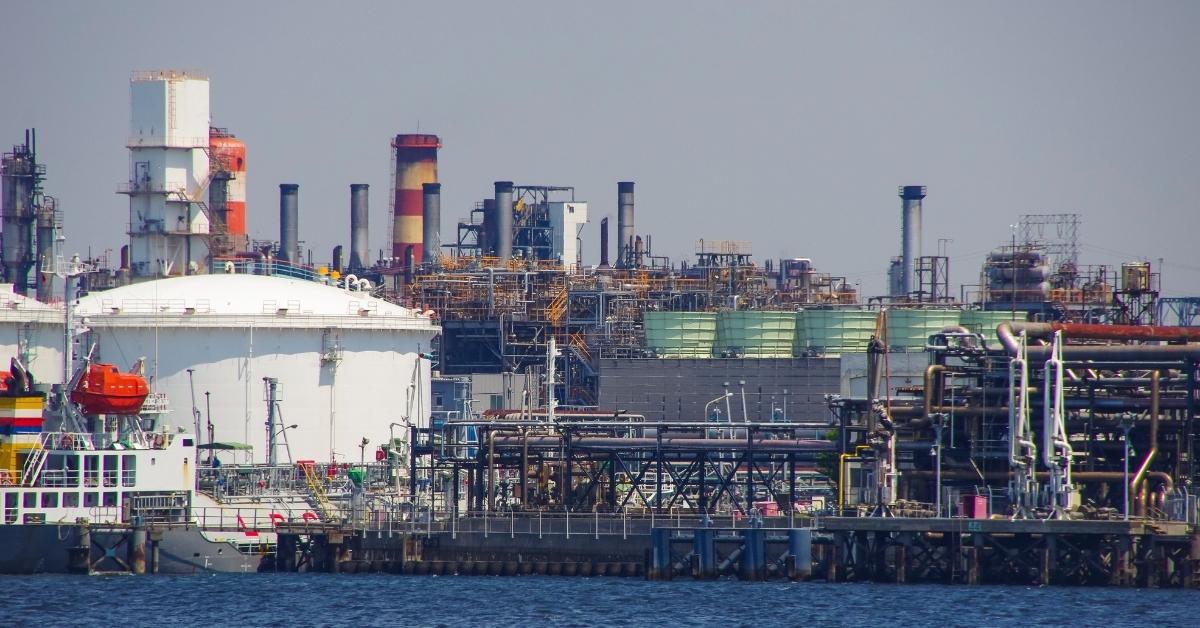 Factory for Rent with Savills' in major Vietnam Industrial Park List
Many enterprises must pick alternatives to avoid postponing investment due to the problems that exist in industrial parks. And Savills Industrial services is an excellent alternative if you're looking for properties in Vietnam industrial park list as key for economic growth.