Vietnam has recently become a significant manufacturing hub owing to several favorable factors, such as a skilled and youthful workforce, affordable labor costs, and a business-friendly environment. According to The World Bank, The manufacturing industry has emerged as a major contributor to the country's economic growth, with its share in the GDP exceeding 20%.
In 2022, Vietnam accomplished an unprecedented feat of $20 billion in foreign direct investment (FDI), the proceeds of which are being employed to advance and extend the country's manufacturing industry. It is foreseen that in 2023, Vietnam's manufacturing sector will experience an expansion of 7%, a rate that outpaces the global growth rate of 5.5%, as stated by the General Statistics Office.
With these accurate data, in the coming years, Vietnam manufacturing hub is anticipated to play a progressively significant role. This article will offer valuable insights and details regarding this potential country.
Understanding Vietnam's Manufacturing Advantages
Vietnam boasts numerous advantages that make it a highly desirable manufacturing location. Among these advantages are:
– Competitive labor costs and skilled workforce: Vietnam boasts a young, educated workforce known for its diligent work ethic. A report by Vietnam Briefing reveals that, on average, labor costs in Vietnam are significantly lower than those in China and Thailand. In fact, the average hourly wage in Vietnam is just US$2.99, compared to China's US$6.50 per hour.
– Strategic geographical location and proximity to major markets: Vietnam is located in Southeast Asia, a region with a growing population and rising incomes. The country is also close to major markets, such as China, Japan, and South Korea.
– Government incentives and a favorable business environment: There are several incentives for businesses, such as reduced corporate income tax rates and exemptions or reductions in import duties for fixed assets. Additionally, exemptions or reductions in land rents and land levies may be available.
– Infrastructure development and logistics capabilities: The logistics industry in Vietnam has experienced rapid growth and currently contributes to approximately 4.5% of the country's total GDP. Also, Vietnam is improving its infrastructure and logistics to support its growing manufacturing industry.
The Rise of Vietnam as a New Manufacturing Hub
Over the past few years, manufacturing has moved from the typical East Asian hubs like China to Vietnam. This is because Vietnam has several manufacturing advantages that drive the relocation of manufacturing to their country.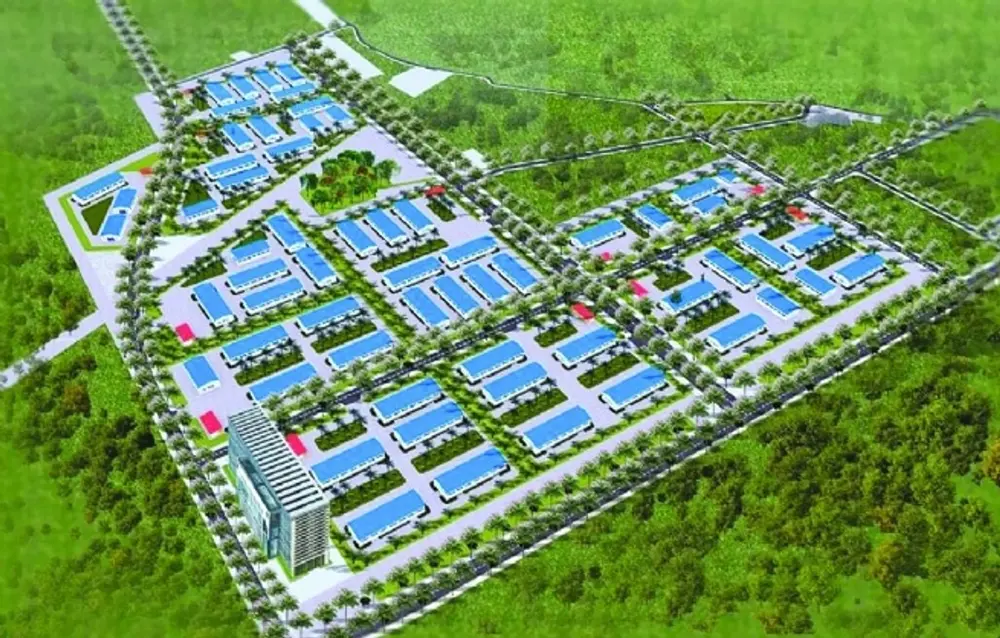 Apart from the advantages mentioned above, this country offers several comparative benefits over other manufacturing destinations. One is multilateral free trade agreements and competitive labor costs. This becomes especially evident as investors search for alternatives to China, where costs are rising, and trade shocks are possible. Vietnam is viewed as a "China plus one" destination for these investors.
Here are some of the leading industries driving the manufacturing boom in Vietnam:
– Pharmaceuticals
– Automotive
– Coffee
– E-Commerce
– Electronics & Electrical Appliances
– Footwear & Garments:
– Machinery & Equipment
Overall, Vietnam is in a good position to maintain its growth as a manufacturing center in the upcoming years. The nation possesses a young, capable labor force, a beneficial business environment, and a strategic location. Its continuous infrastructure improvement will make the great Vietnam new manufacturing hub in Asia.
China vs Vietnam Manufacturing: A Comparative Analysis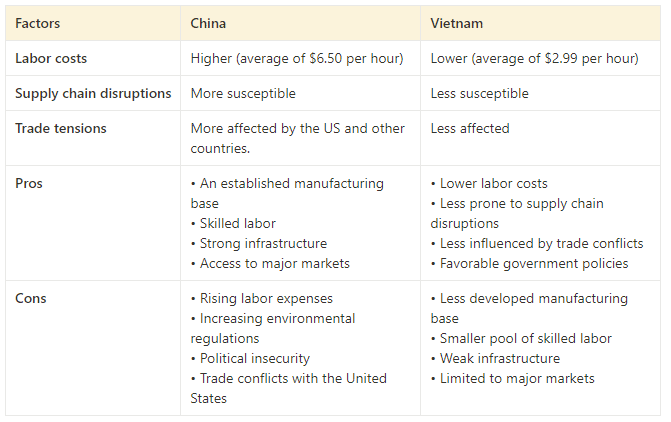 Several high-profile case studies and success stories have highlighted Vietnam's rise as a manufacturing powerhouse, illustrating the country's rising desirability as a manufacturing location. Here are the three prominent examples:
– Apple: In 2018, Apple announced that it would be relocating some of its iPhone production from China to Vietnam. This was seen as a major win for Vietnam, as it showed that the country was becoming a viable alternative to China for manufacturing.
– Samsung: Samsung has been expanding its manufacturing operations in Vietnam in recent years. The company now has several factories in Vietnam, which produce a variety of products, including smartphones, televisions, and home appliances.
– Nike: Nike has been sourcing footwear from Vietnam for many years. The company has a number of factories in Vietnam, which produce a wide range of footwear products.
Establishing a Manufacturing Presence in Vietnam
Some detailed considerations about establishing a manufacturing presence in Vietnam that you must follow:
– Legal and regulatory considerations: include Investment laws and regulations (Law on Investment and the Enterprise Law), Labor laws, Environmental regulations, etc.
– Navigating foreign investment laws and regulations: Vietnam's new guidance on foreign investment (Decree 31/2021/ND-CP) prohibits investment in sectors on the Prohibited List. For sectors on the Conditional List, foreign investment is allowed if market access conditions are met. This implements the Law on Investment No. 61/2020/QH14.
– Incorporation options and choosing the right business structure: Limited liability companies (LLCs), Joint ventures, and Branches are the most common business structures for manufacturing operations in Vietnam.
– Partnering with local entities and understanding cultural nuances: Knowing Vietnam's business culture is key for successful partnerships. Respect for seniority and customs such as greetings and gift-giving are important.
Manufacturing Support and Infrastructure in Vietnam
Vietnam boasts a robust infrastructure that effectively supports manufacturing operations. The country is home to 260 fully operational industrial parks spread across three main economic zones: the NKEZ (Northern Key Economic Zones), CKEZ (Central Key Economic Zones), and SKEZ (Southern Key Economic Zones).
These economic zones and industrial parks offer easy access to utilities, transportation, and logistics networks, making them ideal for manufacturing activities.
Also, Vietnam possesses a significant, youthful, and proficient workforce in the realm of skilled labor and vocational training programs. The government has implemented measures to bolster the growth of the labor market, such as augmenting the number of workers possessing skills pertinent to the labor market's exigencies.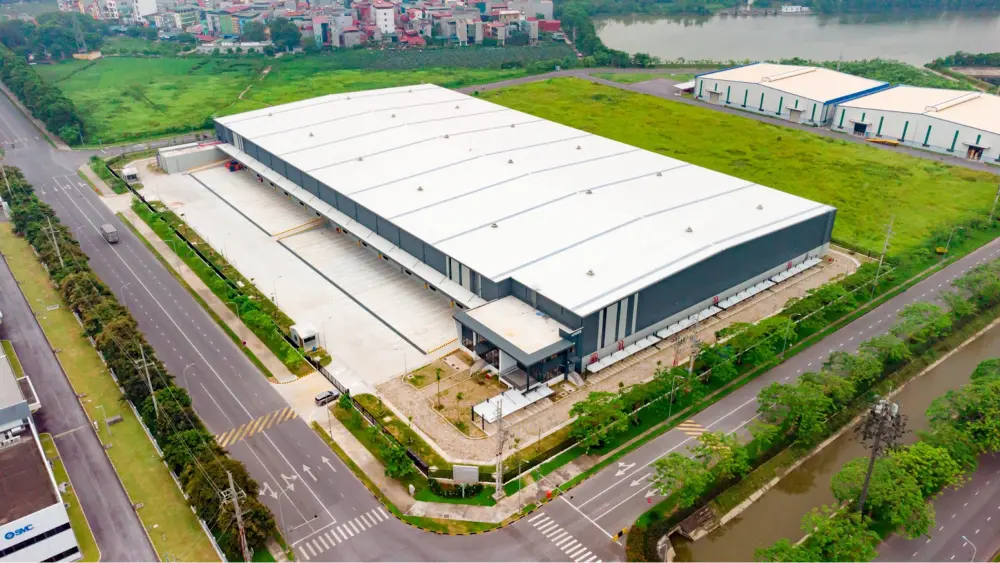 Moreover, Vietnam is actively investing in research and development (R&D) and innovation initiatives to bolster the growth of its manufacturing sector. The government is committed to expediting the development of the national economy in order to narrow the gap with other economies in the Asia-Pacific region.
In pursuit of this goal, the government has implemented various institutional reforms in the national education system, particularly emphasizing the vocational education and training (VET) sector.
Overcoming Challenges and Risks
Once have a clear understanding of the Vietnam manufacturing hub's challenges, here are some key points for overcoming them and managing risks in manufacturing operations.
– Addressing potential challenges in manufacturing operations: Understand the local business environment & Take advantage of Vietnam's strategic location, stable political system, and affordable labor force
– Mitigating risks such as supply chain disruptions and political stability: Implement a strong approach to risk management & Address supply chain challenges such as geopolitical disruption and shortages of key materials
– Ensuring compliance with labor and environmental regulations: Follow the provisions of the Labor Code & Comply with environmental regulations
– Implementing effective risk management strategies: Identify, assess, manage, and monitor risks & Update and review assessments as new developments occur & Take steps to protect the organization, people, and assets
Conclusion
As mentioned previously, the successful management of challenges and risks inherent in the Vietnam manufacturing hub necessitates a concomitant understanding of the local business environment, as well as the implementation of efficacious risk management strategies and the assurance of compliance with labor and environmental regulations.
Vietnam is gaining increasing eminence as a manufacturing hub owing to its advantageous geographical location, stable political system, and economically viable labor force. Businesses ought to consider Vietnam as a strategic manufacturing destination with vast potential for future growth and development in the manufacturing sector.
Savills Industrial is a pre-eminent provider of industrial real estate services in Vietnam, with a profound comprehension of the Vietnamese market, and can assist businesses in identifying the appropriate location for their manufacturing operations. Furthermore, we offer a plethora of other services, including project management, construction management, and leasing, that can prove instrumental in the success of businesses Vietnam manufacturing hub.