After a turbulent first half of 2023, Viet Nam shows steady and stable growth as its key drivers remain its most significant asset in the long term. While upticks in manufacturing PMI, site visits and industrial production show promise, how will industrial real estate and manufacturing in Viet Nam fare in the mid term?  Download Savills latest Industrial Insider for a mid-term forecast on Viet Nam's industrial sector supported key metrics and expert insights.  
Viet Nam's Industrial Landscape
Viet Nam is well-positioned for industrial expansion with a favourable geographic location and strong fundamentals like the Government's appealing investment policies, a large and affordable workforce, industrial parks by reputed investors, and increasingly sophisticated infrastructure systems with ports, ring roads, and airports. International companies implementing China +1 strategies have also spurred industrial growth in Viet Nam. 
Forecast GDP growth 2023 (ADB)
The Vietnamese manufacturing sector is a stalwart figure in the country's economy and delivered a 24.8% share of Viet Nam's GDP in 2022 and
a 69.3% share of the registered FDI capital by September 2023.
Companies like Samsung, LG, and A
pple are manufacturing in Viet Nam. In
September 2023, Apple finalised the relocation of 11 of its audio device production facilities to Viet Nam, marking a significant shift in the company's global supply chain strategy. 
Viet Nam's Economic Performance
Growth and resilience continue to define the Vietnamese economy.  
Industrial performance indicators like Viet Nam's Manufacturing Purchasing Managers' Index (PMI) and Index of Industrial Production (IIP) saw upticks in Q2/2023 and Q3/2023. Industrial productivity in Viet Nam rose by 2.6% YoY in August 2023, increasing from a 2.3% rise a month earlier, representing the fourth straight month of growth in industrial output and the steepest pace in the sequence. 
Manufacturing share of FDI 9M/2023
Northern Share of Manufacturing FDI 9M/2023
By 20 September 2023, total registered FDI in Viet Nam reached US$20.2 billion. Manufacturing and processing had a 69.3% share with US$14 billion. By area, manufacturing FDI was skewed to the North of Viet Nam with a 63% share, followed by the South with a 26% share and Central Viet Nam had an 11% share of FDI in 9M/2023.  
Newly registered manufacturing FDI by region, 9M/2023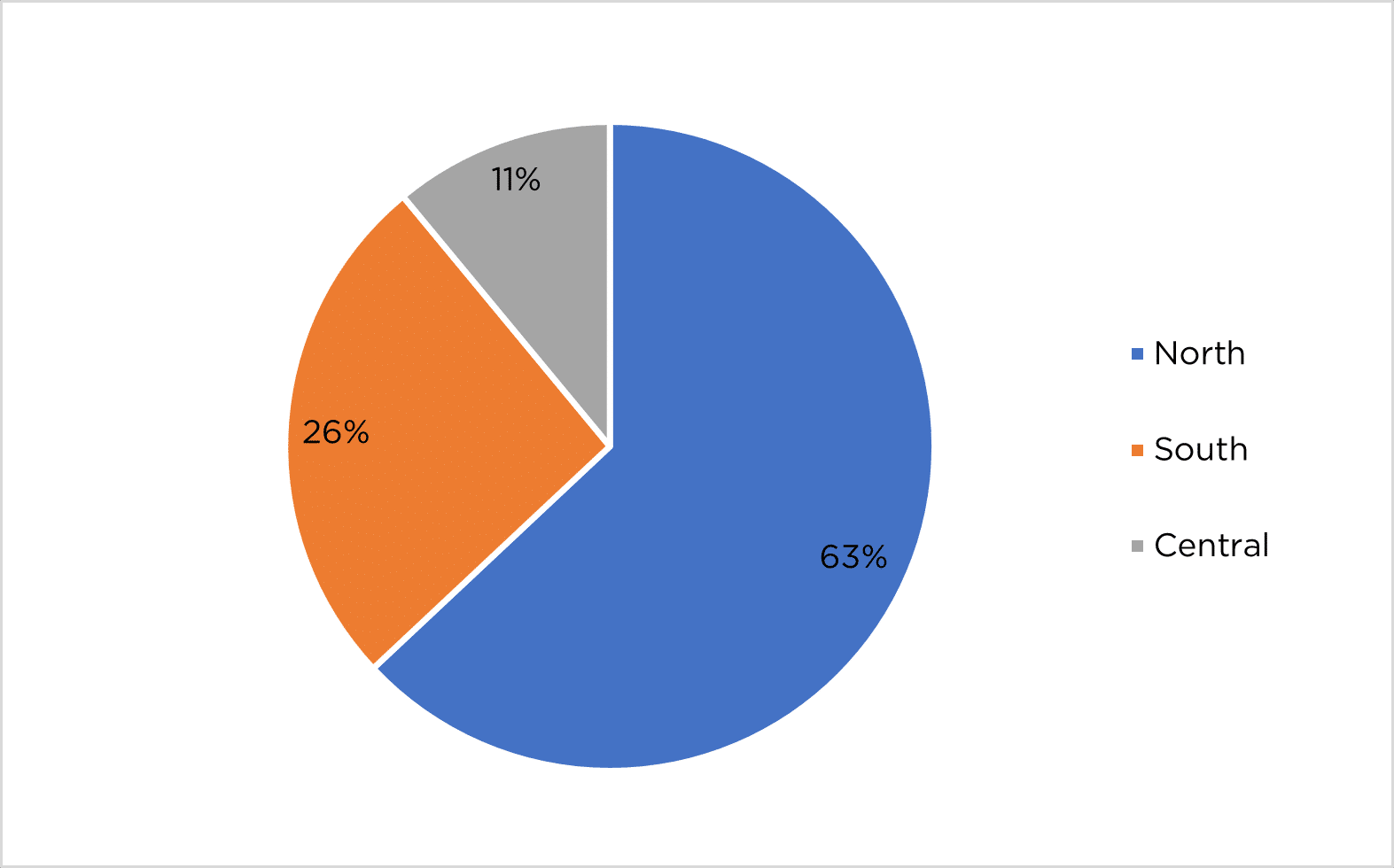 Viet Nam is regionally competitive. Manufacturing salaries in Viet Nam have remained consistently lower than in China, Malaysia, and Thailand and reached US$329/month in 2023. The country is also forecast to post the highest GDP growth of ASEAN countries in 2023 at 5.8%, marginally higher than the Philippines at 5.7%, but notably higher than Singapore's 1%. 
Manufacturing salaries, 2019 – 2023 US$/month – Source Trading Economics, 2023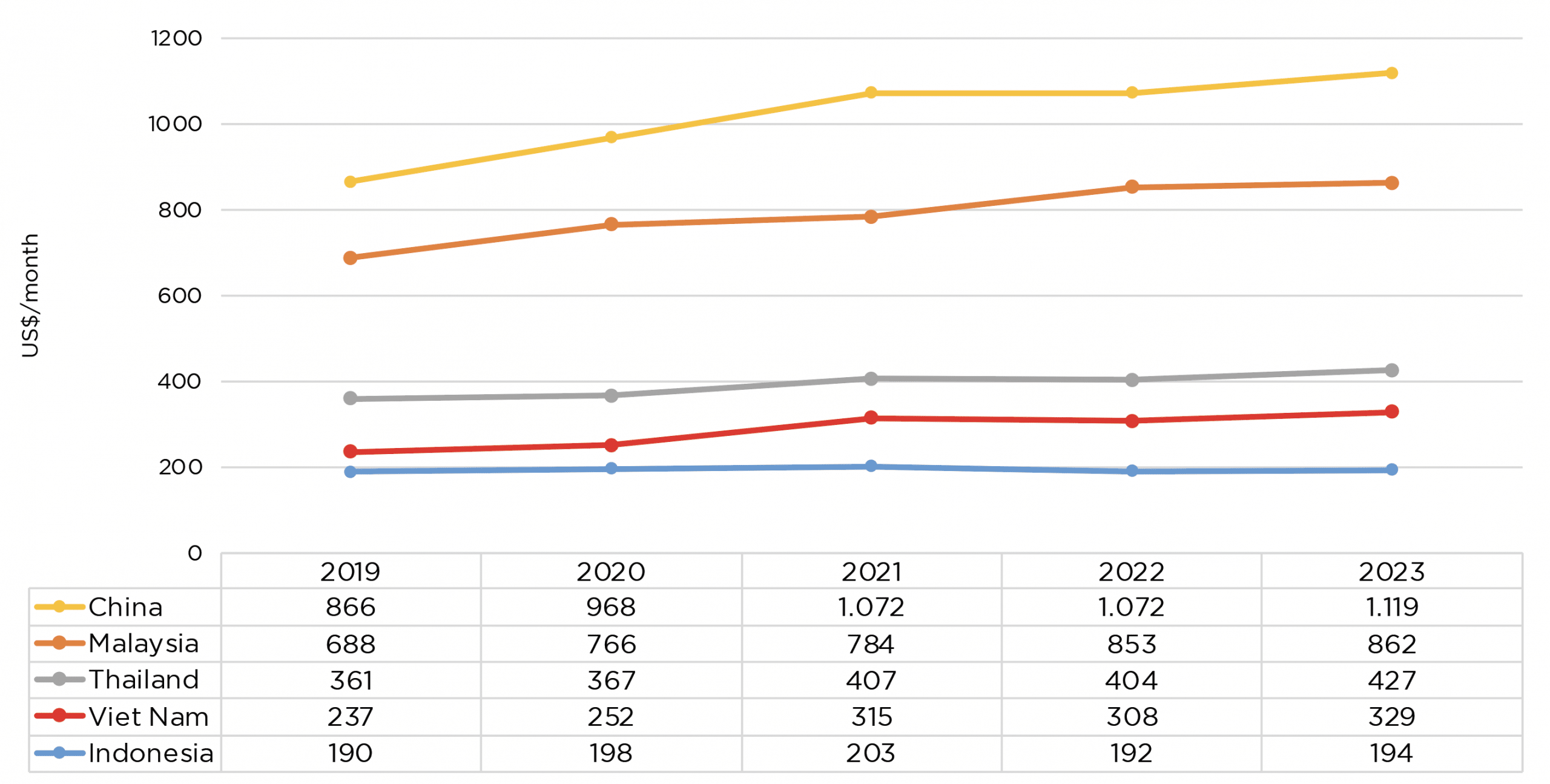 Industrial Properties in Viet Nam 
Industrial Parks 
Viet Nam average land IP price
There are 397 established industrial parks in Viet Nam. They span 122,900 ha and underpin the industrial real estate market in Viet Nam. Industrial parks in Viet Nam are approximately 80% occupied, with industrial parks in southern provinces averaging 91%, which means industrial land for lease in Viet Nam is tightly held. These industrial parks are home to leading manufacturing facilities in Viet Nam. In Savills Industrial Insider 8M/2023, the analysis breaks Viet Nam into the Northern Economic Zone (NEZ) and Southern Economic Zone (SEZ). In the NEZ, key industrial park developers include Vietnam Singapore Industrial Park (VSIP), Viglacera, Kinh Bach City Corporation, TNI Holdings Limited, and Deep C Industrial Zones. Occupancy is 83% with industrial land prices in Northern Viet Nam averaging US$138/m2/one-off term. In the SEZ, key industrial park developers include VSIP, Sonadezi, Saigon VRG, Tin Nghia Corporation, Idico, and ITA. Occupancy is 91% with land prices of US$174/m2/one-off term. 
"In Northern and Southern Economic Zones, occupancy increases are more modest than rent improvements. In the NEZ, double-digit rent is becoming a thing of the past, which could be a challenge as land prices will be significant for the influx of electronics and automotive players and the new wave of solar manufacturing projects looking for large land banks. Limited stock and high land prices mean we are seeing multilevel factories and warehouses outside of HCMC, as developers strive to optimise land investments." 

John Campbell, Associate Director, Head of Industrial Services 
Ready-Built Factories and Warehouses 
Ready-built factories and warehouses in Viet Nam are increasingly in demand. They give investors flexibility, speed to market, and lower CAPEX and time commitments. No longer do developers have to commit to land leases of 50 years.  
Total RBF/W supply in Northern Viet Nam
In the NEZ, ready-built occupancy decreased to 83% in 8M/2023 with the entry of new supply in Hai Phong and Bac Ninh. Factory and warehouse rent in Northern Viet Nam averaged US$4.8/m2/month (excl. VAT) in H1/2023.  
NEZ RBF/RBW stock & rent, H1/2023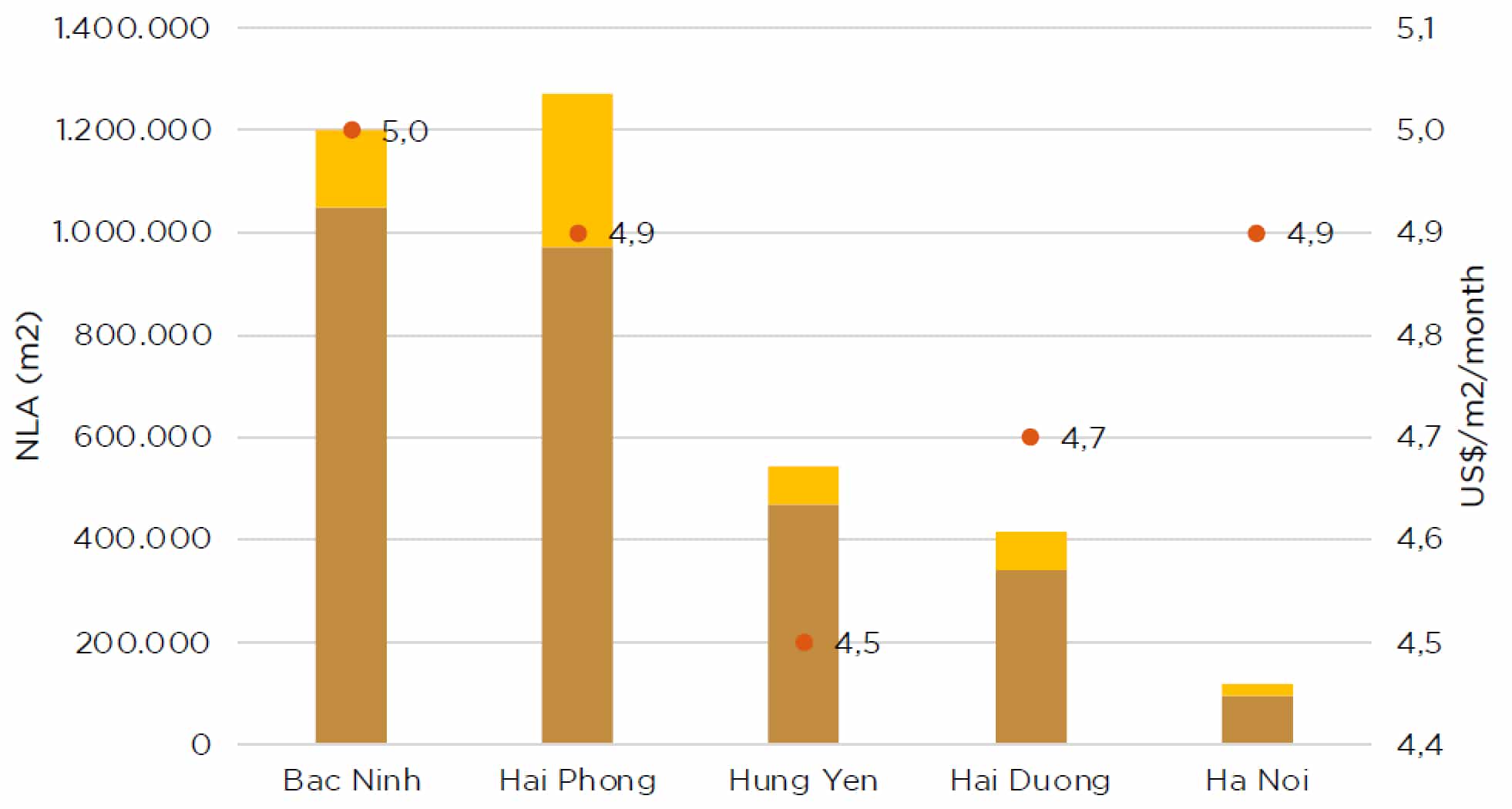 Total RBF/W supply in Southern Viet Nam s
In the SEZ, ready-built factory and warehouse occupancy softened to 83% from 88% last year with new supply in Long An. Rent averaged US$4.4/m2/month (excl. VAT) in H1/2023. 
SEZ RBF/RBW stock & rent, H1/2023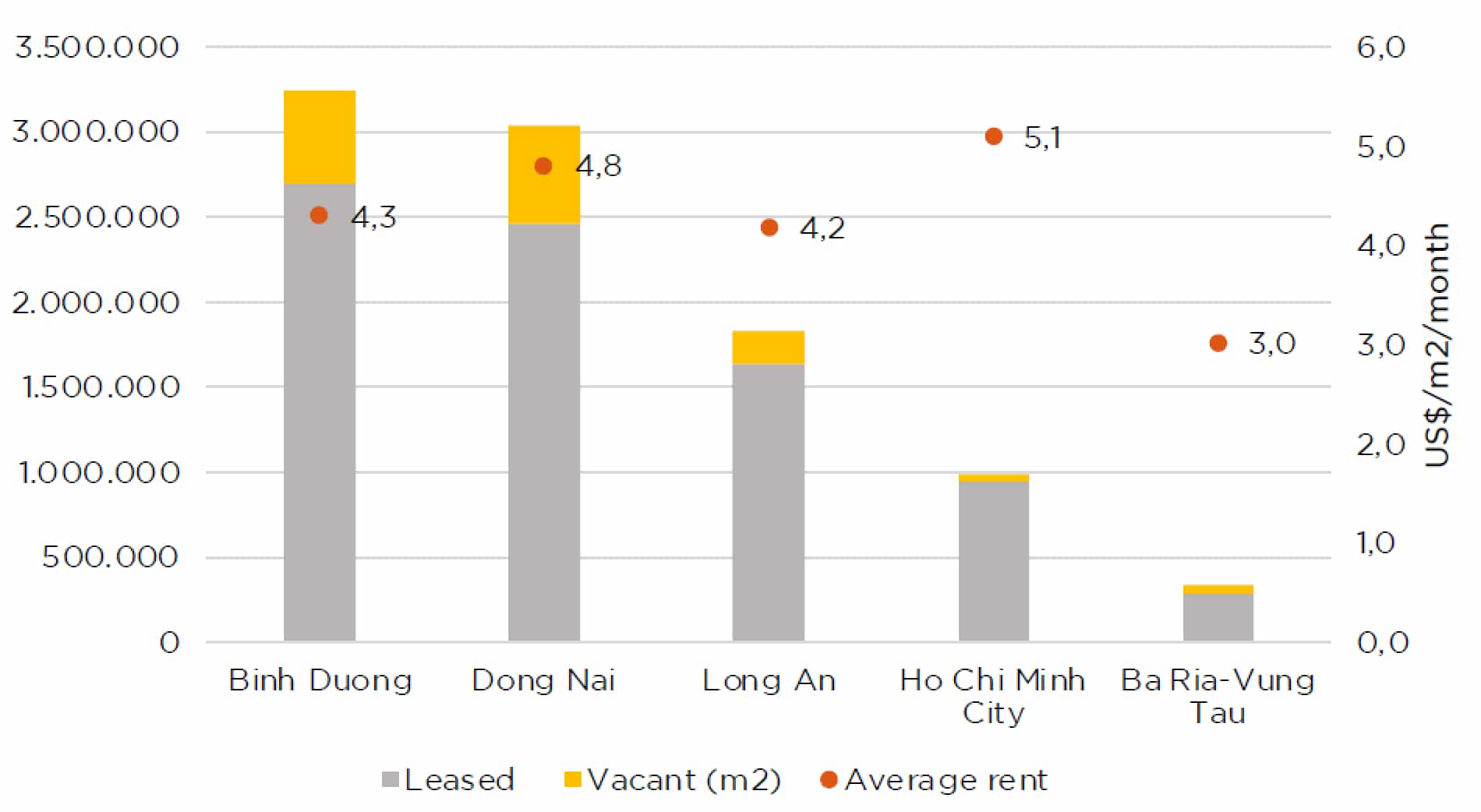 Viet Nam Logistics 
In Viet Nam, logistics has significant promise and is one of the fastest growing logistics sectors globally with the country's strong economy, trade, high value-added manufacturing, and a growing middle class driving the rise of e-commerce. However, many logistics companies in Viet Nam are local companies that deliver relatively low value added services, which means fragmentation is an issue with many SMEs operating independently.  
The Links Between Industrial & Infrastructure Development in Viet Nam
Established transportation networks and new infrastructure development are supporting industrial real estate and development in Viet Nam. However, ongoing, and further infrastructure investment in Viet Nam is essential if wants to attract higher-value manufacturing and logistic projects. Although transportation infrastructure is expanding rapidly, development falls short of national economic and social growth.  
Existing and Future Infrastructure in Northern Viet Nam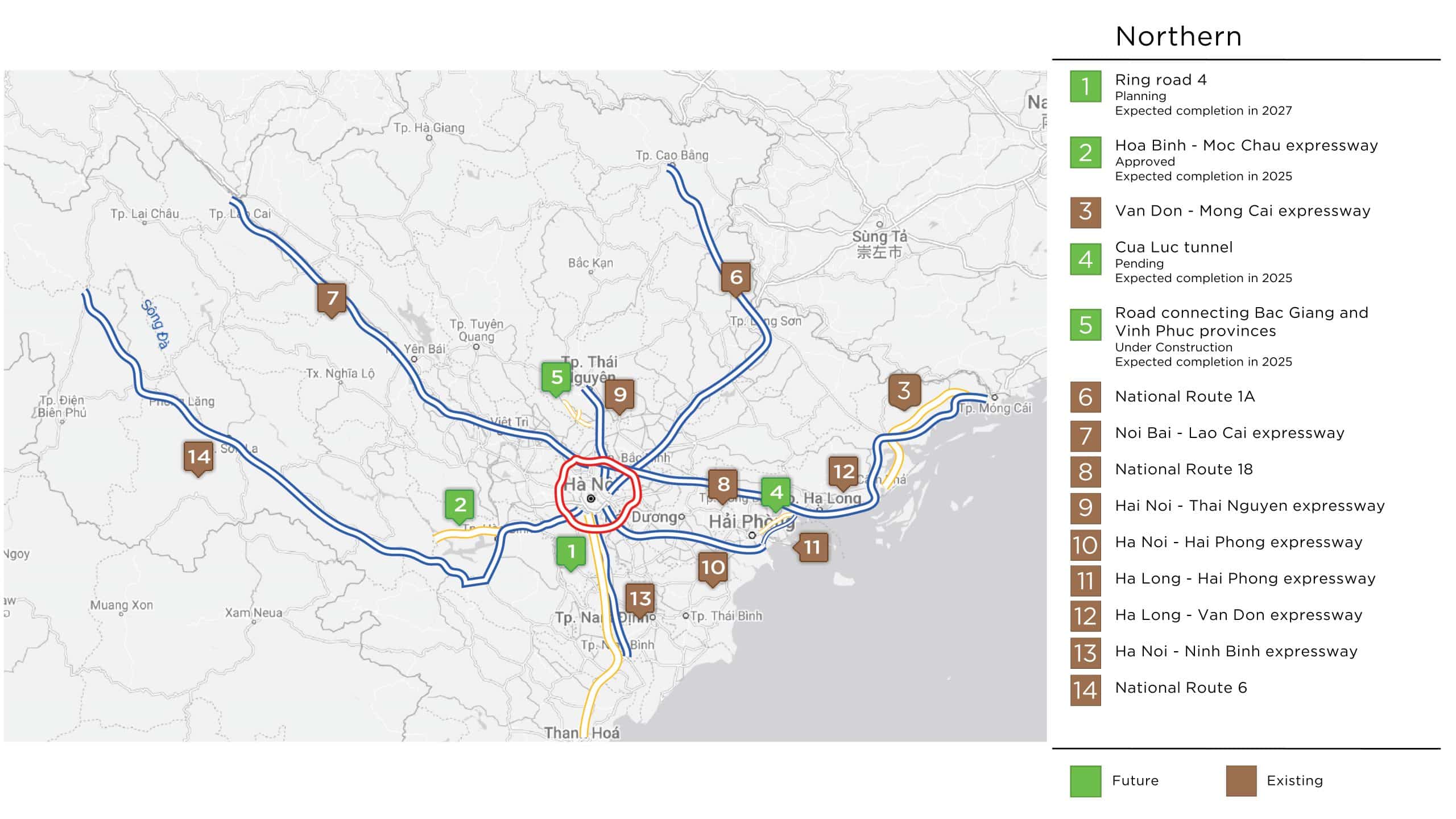 Existing and Future Infrastructure in Southern Viet Nam