A Story of Transformation
Our 2021 Industrial Whitepaper looks at Viet Nam's industrial transformation and its move onto its position as a leading manufacturing hub. Despite a challenging 2021, strong economic forecasts and the increase in high-value industries mean that foreign and value-added investors remain bullish on Viet Nam's long-term growth.
SO, HOW HAS THE ECONOMY FARED?
GDP GROWTH FORECASTS
As Ho Chi Minh City (HCMC) emerges from its prolonged lockdown, businesses have started to reopen. Industrial parks and export processing zones are also ready to make up for lost time; large companies like Intel and Samsung plan to be fully operational by the end of November, hopefully putting an end to supply chain disruptions.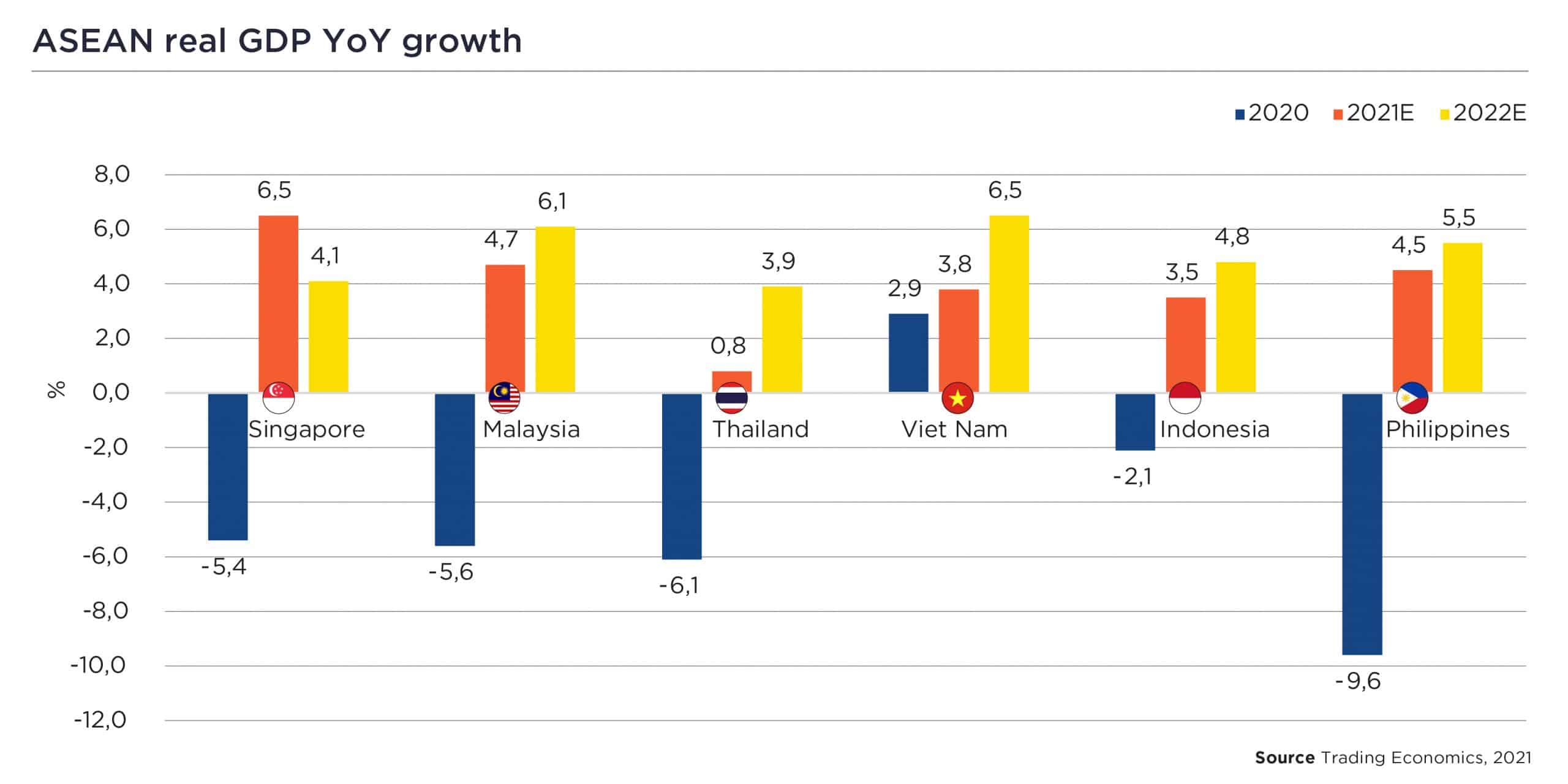 EVFTA
Total European FDI projects
Total registered capital from the EU (US$ Billion)
YoY increase in registered capital from the EU (US$ Million)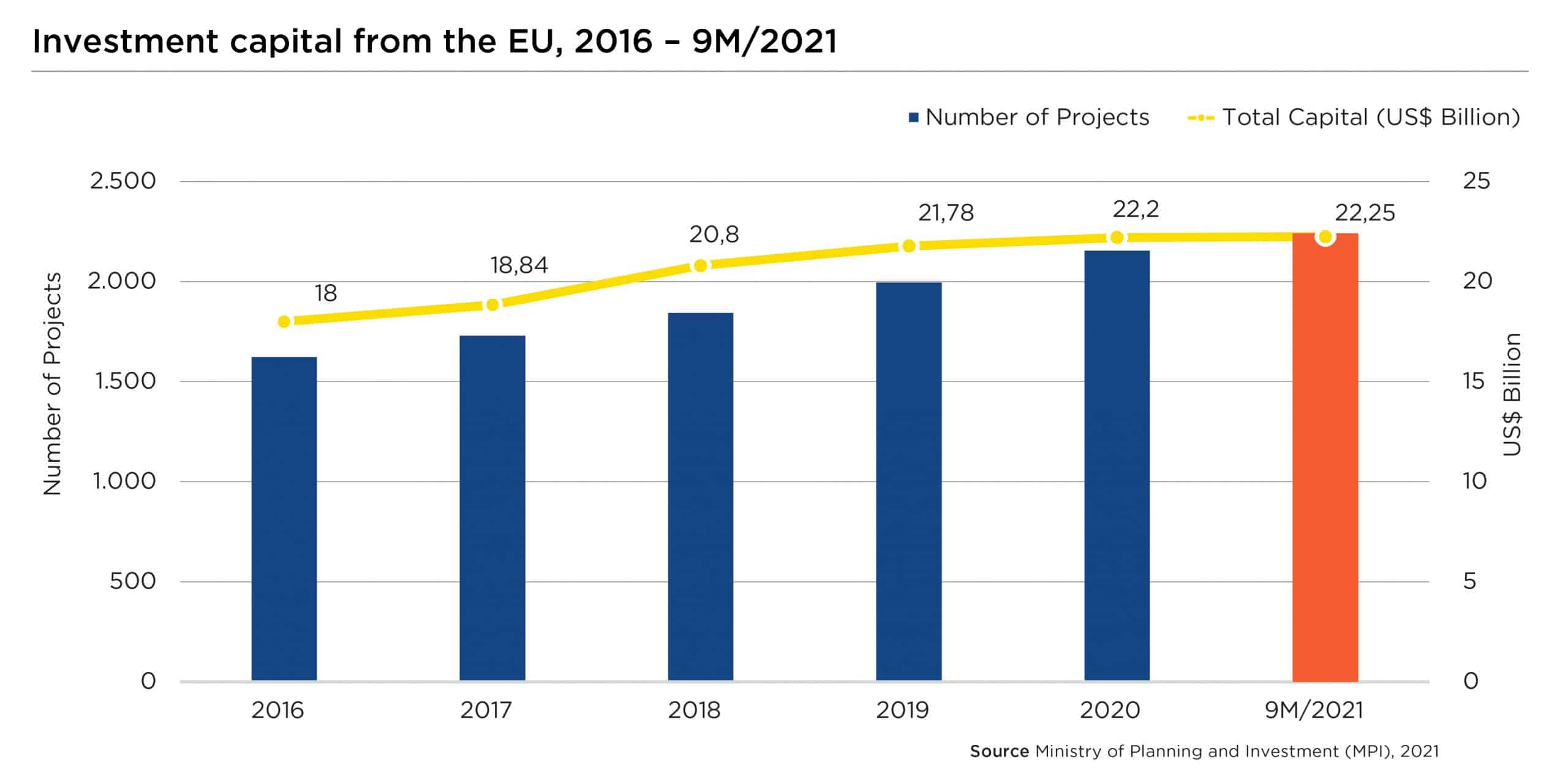 FDI, 9M/2021
Committed FDI (US$ Billion)
Registered capital investments (US$ Billion)
The manufacturing and processing sector had 53% of the total registered FDI with a value of US$11.83 billion (increasing 16% compared to 9M/2020) coming from 402 new projects. In terms of investment by project, those focusing on new electrical equipment attracted US$1.05 billion while those manufacturing computers and electronics had a total investment of US$938 million.
"Most manufacturing FDI in 9M/2021 came from value-added products such as phones, computers, and electronics. Compare this with FDI ten years ago and Viet Nam's move up the value chain is abundantly clear."

– John Campbell, Manager of Industrial Services, Savills Vietnam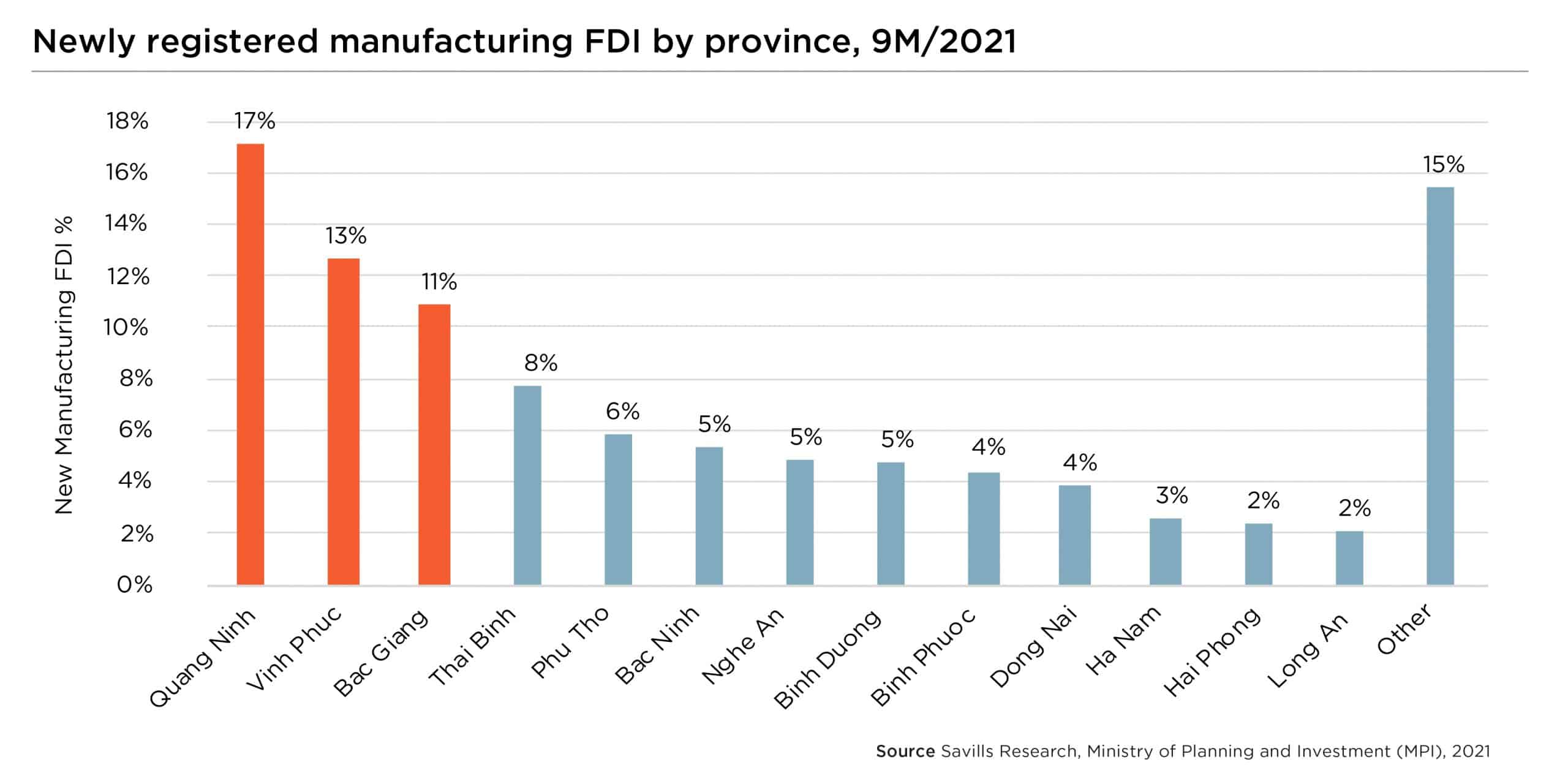 TIME TO TAKE STOCK OF VIET NAM'S INDUSTRIAL SUPPLY
Direct jobs created by IPs in Viet Nam (Million)
New IPs established in 1H/2021
Total land area covered by IPs (Hectare)
Despite the pandemic, 2021 has seen some positive movement in terms of new industrial zones and projects. There are 286 operational parks with an average occupancy of 71%. In 1H/2021, 25 new industrial parks were established – a jump from only six launches in 1H/2020.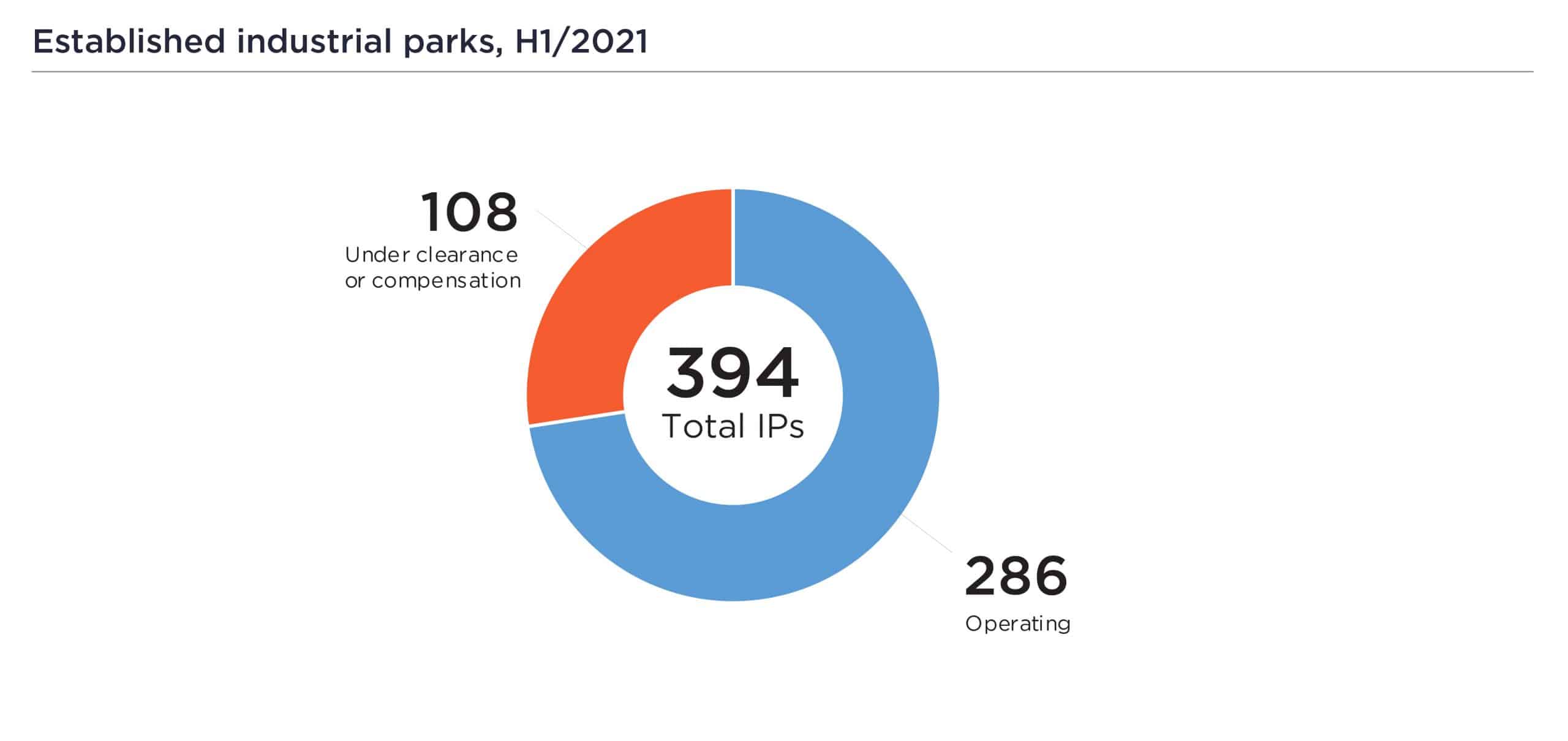 A LOOK TO THE FUTURE
The future looks bright, and post-pandemic forecasts are positive. Interesting future trends include the increase of 4.0 strategies, a focus on sustainable development, and the rise of data centres and cold storage facilities.
➤ Industry 4.0 & Smart Manufacturing: Manufacturing could see a 16% growth in 4.0 strategies by 2030, and new technologies could boost the sector by US$7-14 billion.
➤ Sustainability & Eco-Friendly IPs: A long-term plan is in place to create a national, sustainable industrial development plan.
➤ Outdated IP Models & the Need for Restructuring: Traditional master plans have to be revised to support emerging industries like data centres and R&D projects.
➤ Sale-Leasebacks: An increasingly popular and cost-effective way of raising capital.
➤ Data Centres: The value of Viet Nam's data centre market was US$728 million in 2019 and is expected to reach US$1.6 billion by 2025, representing a CAGR of over 14%.
➤ Cold Storage:  Limited supply and increasing demands for cold storage have resulted in rapid rent increases from US$52 in early 2020 to US$87 per tonne in 2021.
"Q4/2021 is looking brighter than the previous three quarters. An encouraging re-opening plan, support for foreign investors, and the sheer resilience and adaptability of local enterprises are promising signs for recovery. Not only will Viet Nam recover but is likely to come back stronger than ever."

– John Campbell, Manager of Industrial Services, Savills Vietnam