In 1H/2019, Viet Nam's manufacturing and processing sector experienced continued growth amid the US-China trade war, new industry investments and significant free trade agreements taking effect. The Comprehensive and Progressive Agreement for Trans-Pacific Partnership (CPTPP) was officially set in motion in January of this year and after years of negotiation and adjustments, the EU Viet Nam Free Trade Agreement (EVFTA) has been inked in June 2019.
This historic and ambitious agreement, which will eliminate 99% of custom duties between the EU and Viet Nam, has brought even greater interest to ­Vietnamese industrial ­property. By enabling the ­latest production technologies and ­increasing workforce training, the Vietnamese government is actively easing qualms around viability, labour shortages, and rising costs. Moving to a more ­transparent business environment will help mitigate ­investor concerns and improve quality standards. Furthermore, the Regional Comprehensive and Economic Partnership (RCEP) negotiations have made momentous progress and are expected to be finalized by the end of 2019. This proactive agreement aims to establish deeper economic cooperation efforts between the ten member states of ASEAN and the six Asia-Pacific states with which ASEAN has existing free trade agreements.
Graph 1: Manufacturing workers' monthly salary, 2018
U.S.-China trade war
The U.S.-China trade war is driving companies to relocate or diversify manufacturing to Viet Nam with 25% tariffs already in place on US$250 billion worth of Chinese imports and the possible obligation of an additional 10% tariff on another US$300 billion worth of goods. As an alternative to China, Viet Nam offers a young and low-cost labor force, stable government, an improving business climate and boasts one of the fastest growth rates in the world.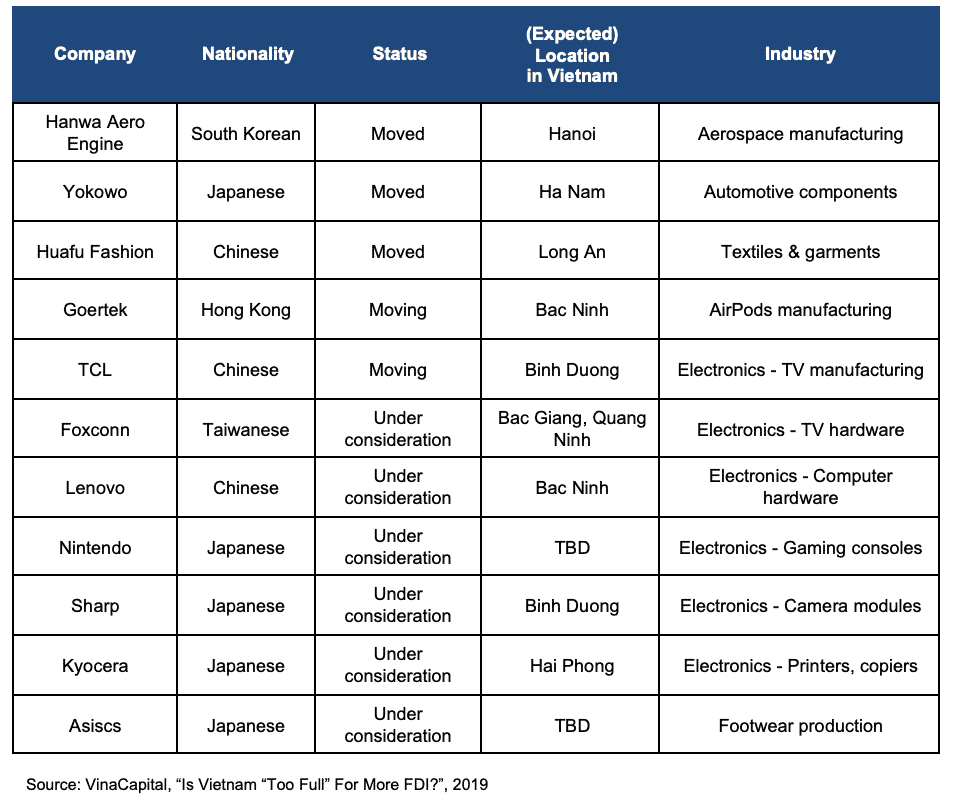 The trade war has resulted in Viet Nam becoming one of the fastest growing sources of U.S. imports in Q1/2019. According to the U.S. Census Bureau, imports from Viet Nam rose 40.2% year-on-year (YoY) in the first three months of the year. Furthermore, the General Department of Viet Nam Customs stated that in the first quarter of the year, the U.S. continued to be the biggest importer of Vietnamese goods, buying US$4.42 billion worth of garments-textiles, up 9.1% YoY; US$2 billion worth of footwear, up 13.5%; US$1.3 billion worth of machinery, equipment, and spare parts, up 54%; and US$1.42 billion worth of wood and timber products, up 34.7%.
Graph 2: YoY change in Viet Nam – US imports in Q1/2019
Manufacturing PMI
In 1H/2019, Viet Nam's Purchasing Managers' Index (PMI) rose from 52.0 in May to 52.5 in June, marking the joint-highest reading in the first half of this year, moving comfortably above the critical 50-point expansion threshold. According to Focus-Economics, Q2/2019 readings averaged higher than in Q1/2019, indicating that the manufacturing sector strengthened, despite the U.S.-China trade tensions. Experts linked June's rise to the growth in new orders, recovery in employment rates, the launch of new products and increased customer numbers.
Graph 3: Average manufacturing PMI, June 2018 – June 2019
Graph 4: Regional average manufacturing PMI, Jul 2019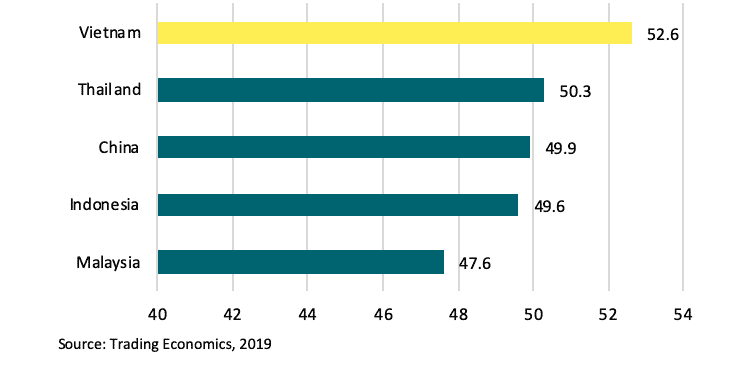 Viet Nam's index of industrial production (IIP)
Viet Nam's Index of Industrial Production (IIP) rose 9.13% YoY in the first six months of this year, down from May's 10% increase, according to the General Statistics Office (GSO). The manufacturing and processing reported a strong IIP increase of 11.2%, leading the growth of the whole economy. Industries achieving high production growth in the first half of 2019 include coal and refined mining products (70%); metal (40%); ore exploitation (18%); motor vehicles (12%) and textile and garment (11%). Key industrial products experiencing IIP growth include crude iron and steel (60%); petroleum (58%); paint (15%); aquaculture feed (14%) and handsets (14%), according to the GSO (source: VNS/VNS).
Graph 5: Index of industrial production (IIP), June 2018 – June 2019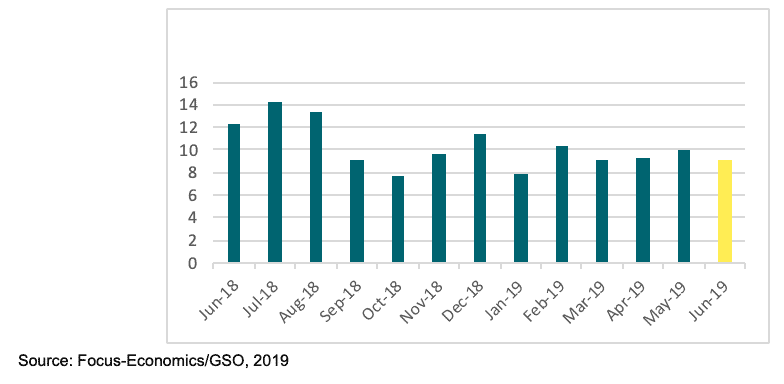 Graph 6: Regional average industrial production, Jul 2019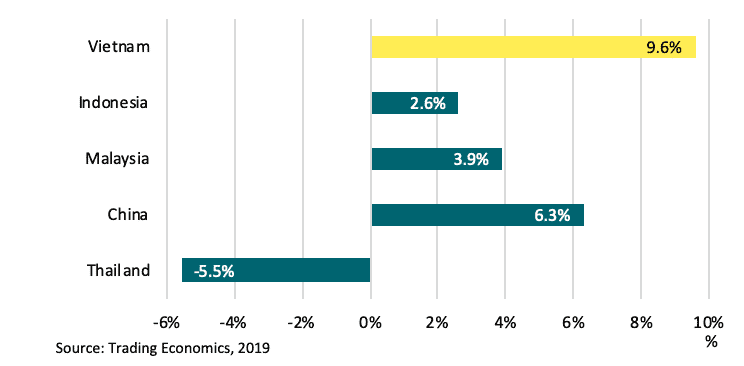 FDI and industrial land
In 1H/2019, 1,723 new projects registered capital investment of US$7.41 billion, the manufacturing and processing sector attracted 605 new projects, accounting for 71.2% of total registered foreign direct investment (FDI) at US$13.15 billion, up 39.85% YoY. Hanoi and HCMC were the best performers, obtaining 26.3% and 16.7% of FDI respectively, with Binh Duong receiving 7.4% and Dong Nai 6.7 percent. Hong Kong investments accounted for 28.7% of total registered FDI with US$5.3 billion, followed by Korea with US$2.73 billion and China with US$2.28 billion. In the first six months of 2019, industrial parks (IPs) and economic zones (EZs) have attracted approximately 340 FDI projects with newly registered capital of approximately US$8.7 billion.
Source: Ministry of Planning and Investment, 2019
Graph 7: Foreign direct investment (FDI) 1H/2019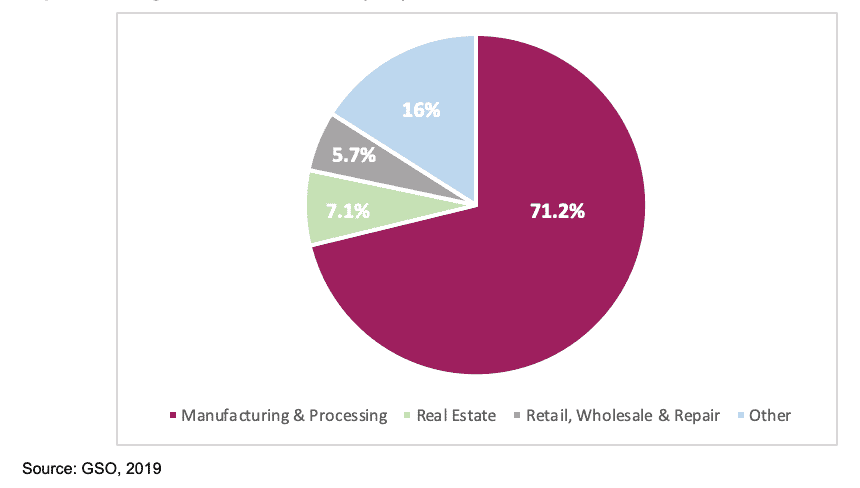 Table 2: Project transactions, 1H/2019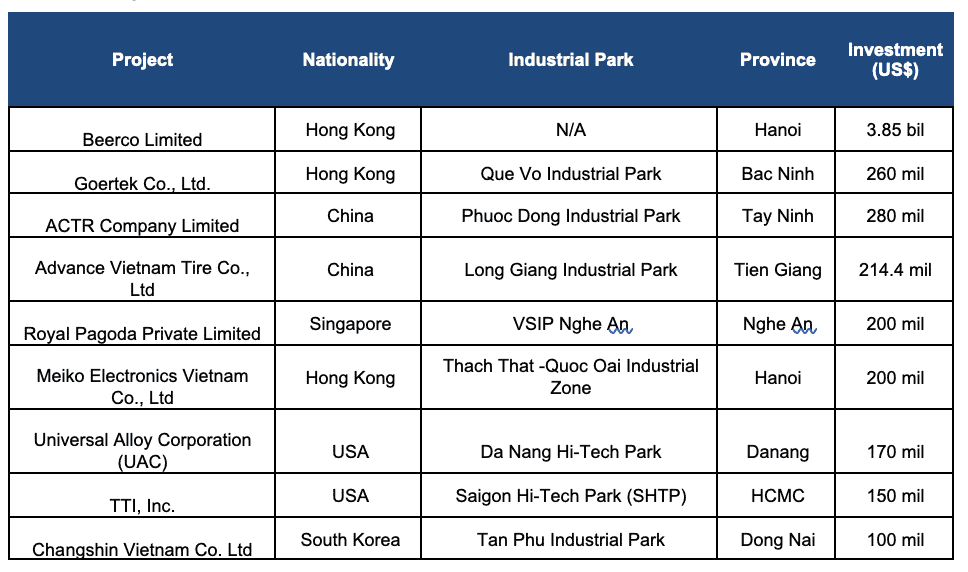 According to the Vietnamese Ministry of Planning and Investment (MOPI), in 1H/2019 there were 326 established industrial parks (IPs) with a total area of 95,500 ha (up from 95,000 ha in 1H/2018), of which industrial land is approximately 65,600 ha, or 68.7%. Of these, 251 are operational, whilst 75 are undergoing construction, site clearance or compensation with a total area of approximately 29,300 ha. Demand continues to outpace supply in operational industrial parks, with occupancy reaching 74%, up from 73% in 1H/2018. In addition, Viet Nam has 17 coastal economic zones (EZs), supplying 845,000 ha. Regarding labour, the MOPI reported that there were approximately 3.6 million workers working in IPs and EZs in 1H/2019.
Rise of rental options
BW Industrial Development JSC (BWID) continue their expansion as Viet Nam's biggest 'for-rent' developer with over 247 ha (up from 209 ha in 1H/2018) across 10 sites in eight key cities. The developer provides ready-built factories (RBF) and built-to-suit (BTS) solutions and plans to acquire an additional 170 ha by the end of 2019. Local developer, KTG Industrial Development JSC, currently have 60 ha under management in eight sites across Dong Nai, Bac Ninh and Ha Noi, with a further 30 ha under development and an upcoming land bank of 30 ha. In July this year, Singaporean developer Boustead Projects Limited opened phase one of their ready-built factory project in Nhon Trach District in Dong Nai with a total net leasable area (NLA) of approximately 34,000 sqm on 6ha. Gaw Capital Partners, a global real estate private equity firm has partnered with NP Capital Partners to create a joint logistics and industrial platform, Gaw NP Industrial. With investment capital of US$200 million, the platform will take advantage of the demand for high-quality warehouses and ready-built factories in key cities and industrial clusters nationally.
Supply and performance, 1H/2019
Graph 8: Northern Viet Nam supply and performance, 1H/2019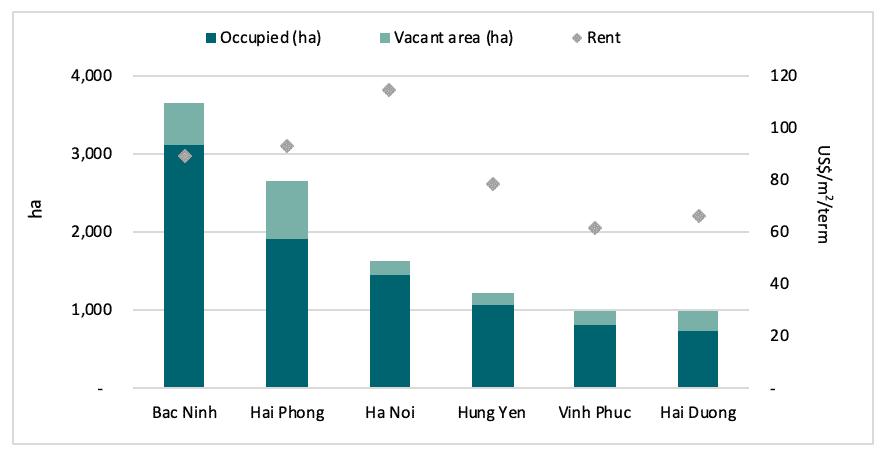 Graph 9: Southern Viet Nam supply and performance, 1H/2019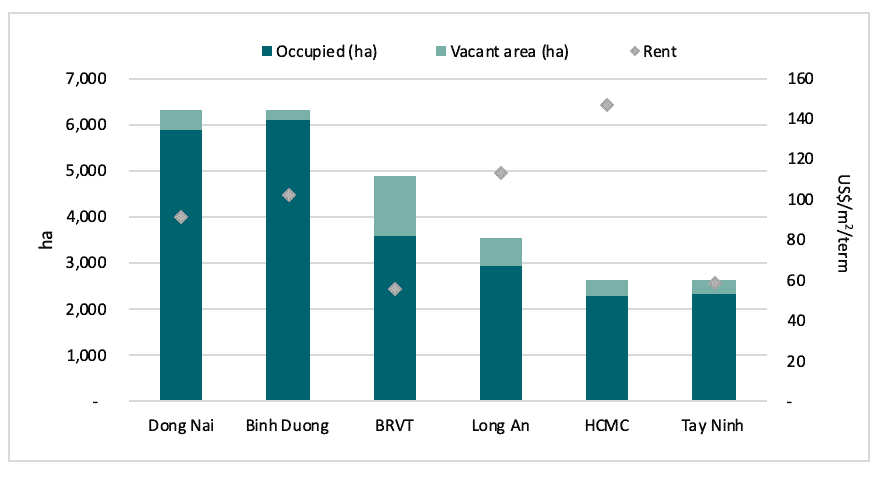 Outlook
Recent critique emphasized that Viet Nam's industrial market does not have enough capacity, in terms of land and labor, to accommodate the expansion and relocation of companies due to the trade war. Although occupancy has increased YoY in key industrial provinces such Binh Duong and Dong Nai in the south, and Bac Ninh and Hai Phong in the north, available land coupled with an array of upcoming projects is sufficient to facilitate foreign companies to significantly increase investments in Viet Nam. With the industrial market at a high, developers are actively pursuing to convert agricultural to re-zone for industrial usage, ensuring further supply. Furthermore, foreign manufacturers are showing interest in new locations such as Nghe An Province, with new projects such WHA Industrial Zone and VSIP Nghe An offering highly competitive land prices as low as US$40/m2. Hue, Quang Nam and Quang Ngai in Central Viet Nam have also received more enquiries in 2018 and 2019 due to competitive land prices. According to Michael Kokalari, Chief Economist at VinaCapital, concerns around labor supply mainly stem from manufacturers with tight margins in "low-value added" industries such as garment and furniture. Kokalari added that less than 10% of the country's workforce is employed in the FDI sector, and over 40% work in the agricultural sector, indicating the potential supply of labor to move "from the farm to the factory" and fuel industrialization.
Viet Nam's industrial sector is experiencing momentous growth in line with a tenfold increase in FDI over the last decade.  Current and upcoming land supply is facilitating incoming manufacturing projects and the rise of rental options with ready-built factories (RBF) and build-to-suit (BTS) solutions is offering alternative opportunities to investors. With the trade war, Viet Nam must be more selective with incoming projects in order to move up the value chain, improve competitiveness and ensure sustainable growth.
Low labor costs and government incentives, particularly preferential tax rates, will continue to be key drivers of foreign investment. However, to continue the transition to higher-value industries, Viet Nam must focus on the quality rather than quantity of investments. Recommendations for FDI Strategy for 2020-2030 by the Ministry of Planning and Investment and International Finance Corporation (IFC) outlined key steps required to increase the quality of foreign investment. Recommendations include creating a national skills development plan to increase the share of skilled labor; modernizing investment promotion activities and focus of priority sectors such as hi-tech manufacturing, supporting hi-tech, logistics and renewable energy; support local firms in addition to foreign investors; review and adjust current investment incentives and policies to ensure FDI quality; and seize opportunities to reduce the negative impact of industry 4.0. – Savills Vietnam. – Savills Vietnam